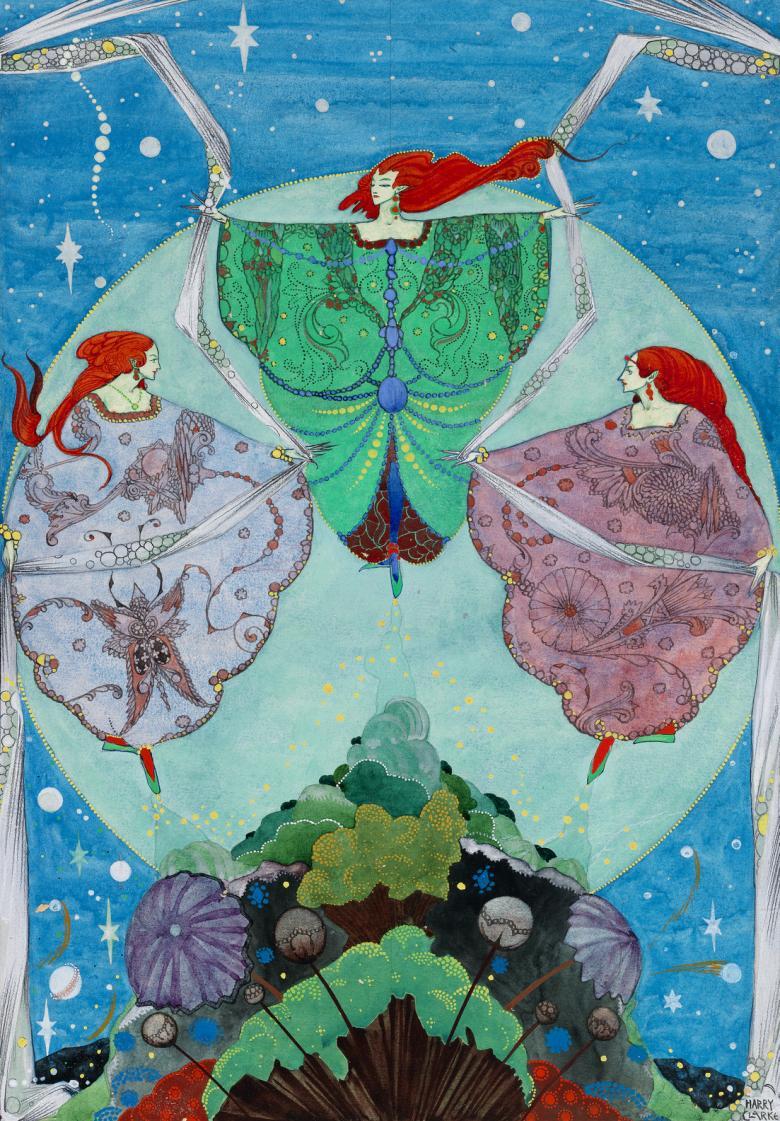 Harry Clarke (1889-1931), The Elf-hill. Photo © National Gallery of Ireland.
Credit
The Elf-hill by Harry Clarke (1889-1931)
| | |
| --- | --- |
| Size | 41.4 x 23.1 cm |
| Medium | Ink, graphite, watercolour gouache and glazes with bodycolour highlights on paper |
| Provenance | Heritage Gift, Lochlann and Brenda Quinn, 2008 |
| Number | NGI.2008.89.10 |
Curator's Choice
We've asked the Gallery's curators to select some of their favourite works from the collection. Here, Niamh MacNally, Curator of the Prints and Drawings Study Room, shares an insight into this magical work on paper: 
"The Elf-hill is one of eleven illustrations in the National Gallery of Ireland's collection produced by the Dublin-born stained glass artist and book illustrator Harry Clarke for Hans Christian Andersen's Fairy Tales. The Gallery is fortunate to have this collection of original drawings by one of the leading figures in the Irish Arts and Crafts Movement. Published to great acclaim in 1916 by Harrap's of London, these illustrations for Andersen's Fairy Tales are notable for their flamboyant level of detail and vibrant colour. 
The Elf-hill is a fairy tale about a feast held by the Elf King, in his mound, for the Gnome Chief of Norway and his two sons. The Elf King's daughters, paraded before the guests as potential brides, display their talents. Clarke captures the elf maidens' graceful dance, as they float against the theatrical backdrop of the moon in this delicately balanced composition: 'The elf girls…danced with shawls which were woven of mist and moonshine.' The combination of vivid colour and stylised pattern make this a strikingly imaginative illustration.
Clarke was highly prolific during his lifetime, creating both exquisite religious and secular stained glass windows and illustrations for the works of Poe, Perrault, Goethe and Swinburne. Clarke died of tuberculosis in 1931, at the tender age of 41. His magical works still have the power to enchant all those who encounter them."