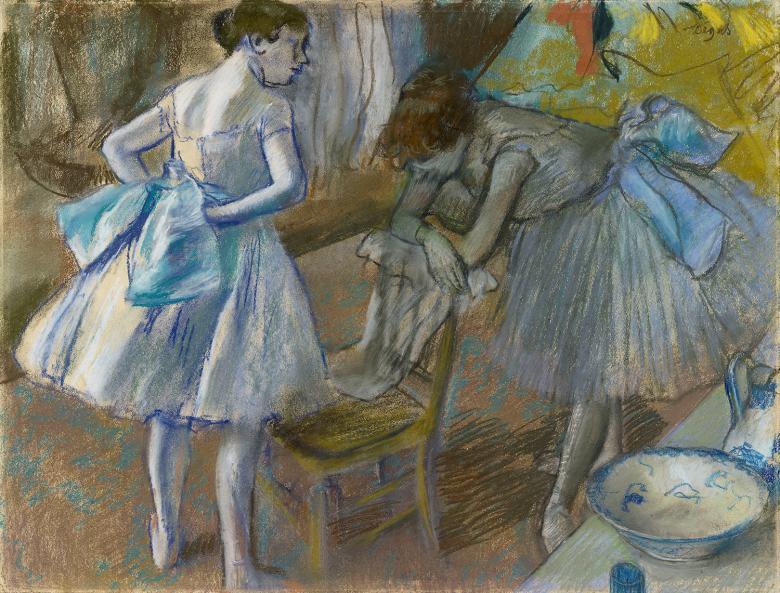 Edgar Degas (1834-1917), Two Ballet Dancers in a Dressing Room, c.1880. Photo © National Gallery of Ireland.
Credit
Take 5 minutes
Spend 5 minutes sitting in silence, looking at this drawing.
Some things to reflect on while looking in silence:
How do you feel while looking at this pastel drawing?
What do you notice? What is your eye drawn to?

The artist's lines and marks
The composition
The light
The shadows
The colours
The forms and shapes
The subject

What is the mood and atmosphere in the drawing?
Why do you think the artist created the drawing?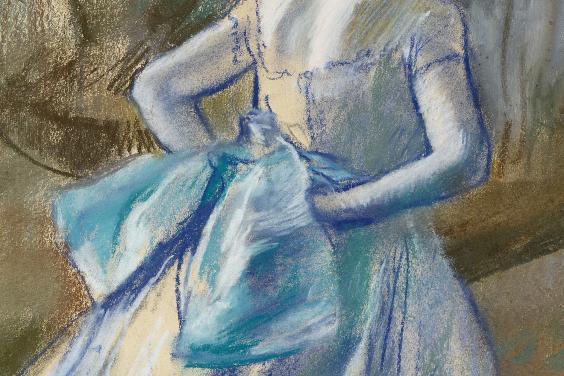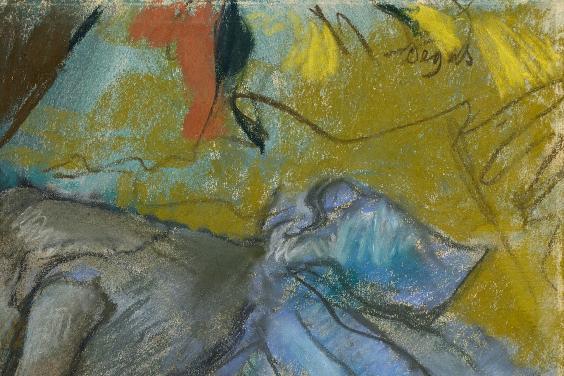 About the drawing
Edgar Degas (1834–1917), Two Ballet Dancers in a Dressing Room, c.1880
Degas was fascinated by the ballet world in Paris. From the 1870s, he observed and recorded the graceful gestures and movements of dancers, first representing performances and later studio rehearsals. In a wide variety of media, he repeatedly described the details of the dancers' agility, precision and strength. In 1885 he gained privileged access to the Paris Opéra, which enabled him to move freely behind the scenes and sketch the dancers in their routine work environment.
In this pastel, ballerinas (more than likely members of the corps de ballet) take a moment's rest in their dressing room before going on stage. A rail of costumes forms the backdrop and points to the fact that this may be a quick-change area. Degas skilfully renders the textures of their tulle skirts, tied with large blue sashes, as well as the artificial light that illuminates the dancer with her back to the viewer. The slightly elevated viewpoint and the cropped nature of the composition contribute to the overall sense of immediacy of this image.
It is likely that the novelist and playwright Edward Martyn, who visited Paris with fellow writer George Moore in 1886, bought this pastel directly from the artist's dealer Paul Durand-Ruel.