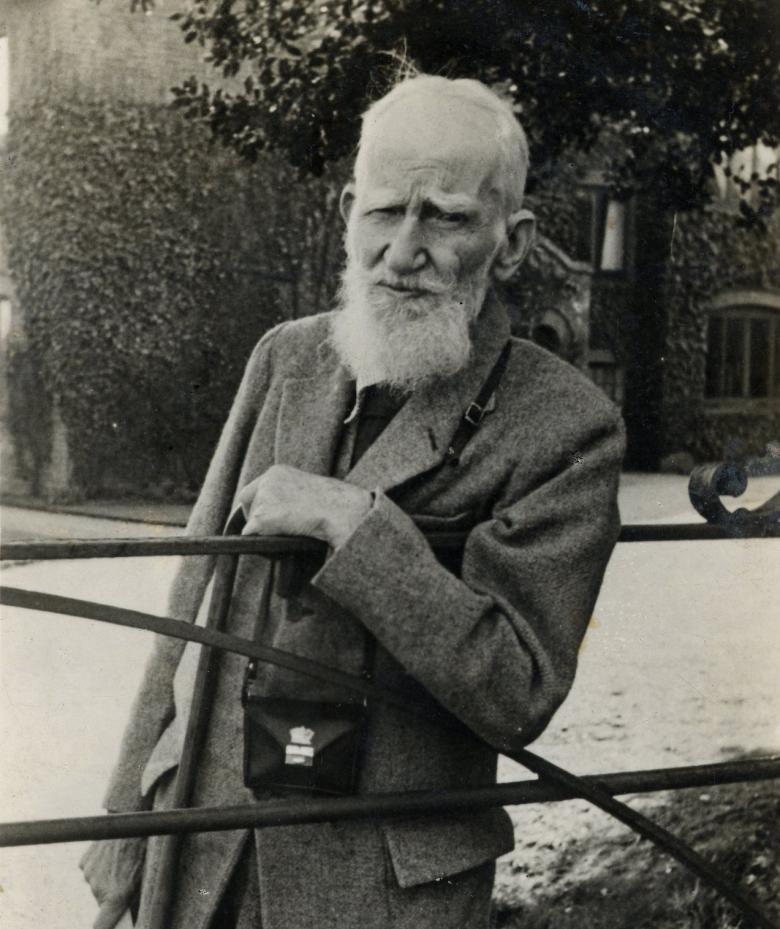 There are many facets to the life and work of George Bernard Shaw. He was, among other things, a socialist, an activist, an intellectual, a playwright, an author and a critic. He was also a man known for his complex and sometimes dark and controversial opinions, including those relating to Fascism, Nazism and Stalinism. As an editorial published in the New Statesman following his death in 1950 put it, "GBS was so big that we all have our own private Shaws".
Our previous exhibition, Shaw and the Gallery: A Priceless Education explores a particular facet of Shaw's life - his relationship with the National Gallery of Ireland, where he spent much of his childhood. 
Here, we pick out a few interesting things about Shaw, and we suggest some further reading.
1. Shaw won both a Nobel Prize and an Oscar
Shaw is one of only two people to have won both an Academy Award and a Nobel Prize for Literature. He was awarded the Nobel Prize in 1925; the committee said that his work was "marked by both idealism and humanity, its stimulating satire often being infused with a singular poetic beauty". With typical Shavian wit, he initially declined to accept, saying "I can forgive Nobel for inventing dynamite, but only a fiend in human form could have invented the Nobel Prize". He later relented and agreed to accept the award itself, but not the prize money, suggesting that it be used instead to fund the translation of works by the Swedish playwright August Strindberg into English. 
Shaw won his Oscar in 1939 for Best Writing, Screenplay for his role in adapting his own play Pygmalion for the screen. Pygmalion would go on to be remade as the wildly successful musical and film My Fair Lady. 
Shaw was the only winner of both awards until 2016, when the Nobel Prize for Literature was awarded to Bob Dylan. Dylan had previously won an Oscar in 2001 for Best Original Song - his song Things have Changed featured in the film The Wonder Boys. 
2. Shaw had a dream office situation!
Shaw and his wife Charlotte moved to the village of Ayot St Lawrence in Hertfordshire in 1906, to a house that was originally built as the New Rectory in 1902, but later became known as Shaw's Corner.
Shaw had a very special, and quite brilliant, 'Writing Hut' built in the garden of Shaw's Corner, which he used for working. Essentially a small garden shed, the hut was specially designed to be rotated, so that Shaw could get the best light all day long. It was mounted on a revolving mechanism, so that in the morning he could rotate it to the east, and as the day progressed and the sun moved, he could go outside and give it a quick push to turn it around and have it face the light. Ingenious! 
'Without art, the crudeness of reality would make the world unbearable'
3. Shaw credited the National Gallery of Ireland with giving him "much of the only real education I ever got as a boy in Eire."
Shaw had an irregular and inconsistent education, and moved schools frequently. Between 1865 and 1871, he attended three different schools. He spent many hours as a child and a young man wandering around the rooms of the National Gallery of Ireland exploring the collection. As a way of thanking the Gallery for being what he referred to as "the cherished asylum of my  boyhood", Shaw bequeathed one third of his posthumous royalties to the Gallery, an incredibly generous gesture which has made a huge difference to the Gallery over the past 70 years. 
The education in artistic style and art history that he received through these visits helped Shaw in his later work as an art critic, and the influence of this interest in art can also be seen in his plays. As Fintan O'Toole points out in his 2017 book Judging Shaw: "His first ambition was to be another Michelangelo, though he lacked any serious painterly talent. But his hours in the gallery had a profound effect on his later artistic development nonetheless. Though it took him at least a decade to realise it, Shaw the writer had no real interest or aptitude for plot. His gift was for portraits and for scenes."
Our past exhibition Shaw and and Gallery: A Priceless Education celebrateedpre this link between Shaw and the National Gallery of Ireland.
4. Shaw wanted to create his own alphabet
Inconsistencies in English spelling were an ongoing concern of Shaw's, who believed that the alphabet was a barrier against literacy and therefore a barrier to the social mobility of the poor. In his will he established two 'Alphabet Trusts' to fund the creation of an entirely new 40-letter phonetic alphabet. One Trust was to conduct research, gather statistics and demonstrate how time, labour and money could be saved using his proposed Shavian alphabet. The second was to manage publicity,  dissemination and the transliteration of Shaw's version of the fable Androcles and the Lion into the new phonetic alphabet. 
However, there were problems with the validity of the Trusts and, in February 1957, the Courts ruled against the will. An out-of-court settlement allocated £8,300 to the Alphabet Trusts, and Androcles and the Lion was reproduced in the Shavian alphabet and distributed to public libraries in the United Kingdom and to national libraries abroad. Shaw's supporters continued to promote the Shavian alphabet, but it has never been applied in broader society.
5. Shaw was not an overnight success!
Shaw moved to London in 1876, at the age of 20, to join his sister and mother who had moved there in 1873. He set about becoming a writer, relying on a very small allowance from his father. Shaw wrote five novels in quick succession between 1879 and 1883, all of which were rejected by publishers, although his fifth novel was published in serial form in the socialist magazine To-Day. In 1885, he began to get steady work as an arts reviewer, and in 1895 he became drama critic for The Saturday Review. It was another two years, when Shaw was 41, before his first financially successful play, The Devil's disciple, was produced, earning Shaw £2000. Shaw himself was circumspect about his lack of early financial success, writing to another critic in 1894 saying "If your board and lodging are guaranteed, you may consider yourself a king" (Fintan O' Toole, Judging Shaw, 2017). 
5. Shaw was a vegetarian
In 1881, at the age of 25, Shaw began experimenting with vegetarianism. He later declared that "a man of my spiritual intensity does not eat corpses". Shaw considered eating to be a "troublesome necessity", and was a firm advocate of clean living - as well as shunning meat, he didn't drink alcohol or smoke, and he drank neither tea nor coffee!
Further reading: