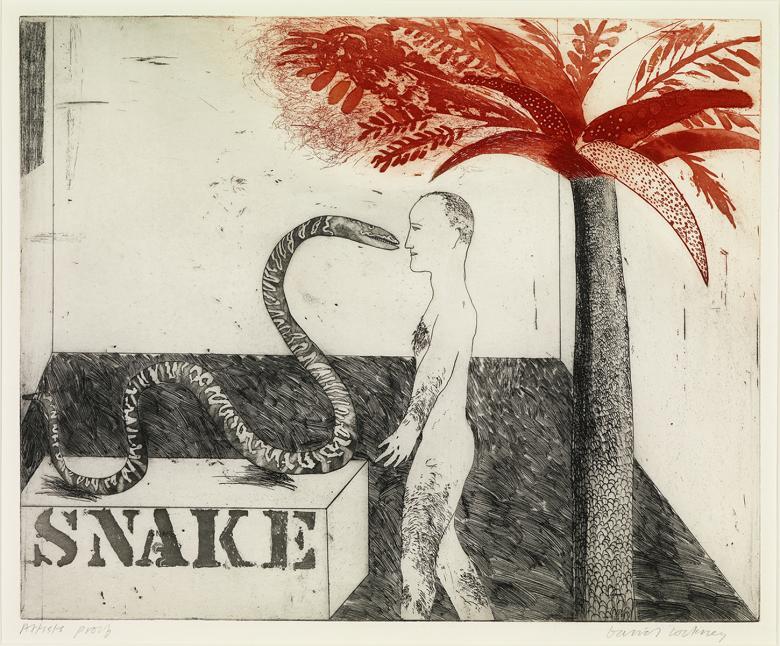 David Hockney (b.1937), Jungle Boy, 1964.
Etching and aquatint in two colours.
Edition of 50. 16 x 19.5".
© David Hockney. Photo Credit: Richard Schmidt
Credit
Opening date to be confirmed – 7 June 2021
Print Gallery | Free entry
Spanning almost one hundred years of modern art, this exhibition showcases highlights from the wide-ranging collection of Alexander Walker (1930–2003), longstanding film critic for London's Evening Standard newspaper and prolific collector of modern and contemporary prints and drawings. 
In life, Walker surrounded himself with works from his collection in all rooms of his West London flat including his kitchen and bathroom. He bought works of art for pleasure rather than financial gain and generously left his collection of over 200 works on paper to the British Museum when he died. 
This is the first exhibition in over ten years to showcase the art through the lens of his collection. The exhibition will include 30 prints and drawings by artists ranging from Pablo Picasso and Henri Matisse to Lucian Freud, Bridget Riley, David Hockney and Vija Celmins. 
Curator | Anne Hodge
Generously supported by the Dorset Foundation in memory of Harry M Weinrebe.
If you or your company wish to support our exhibition programme, our Development team will be delighted to speak with you about sponsorship or making a donation. Please call +353 (0) 1 632 5541 to speak to a member of the team.