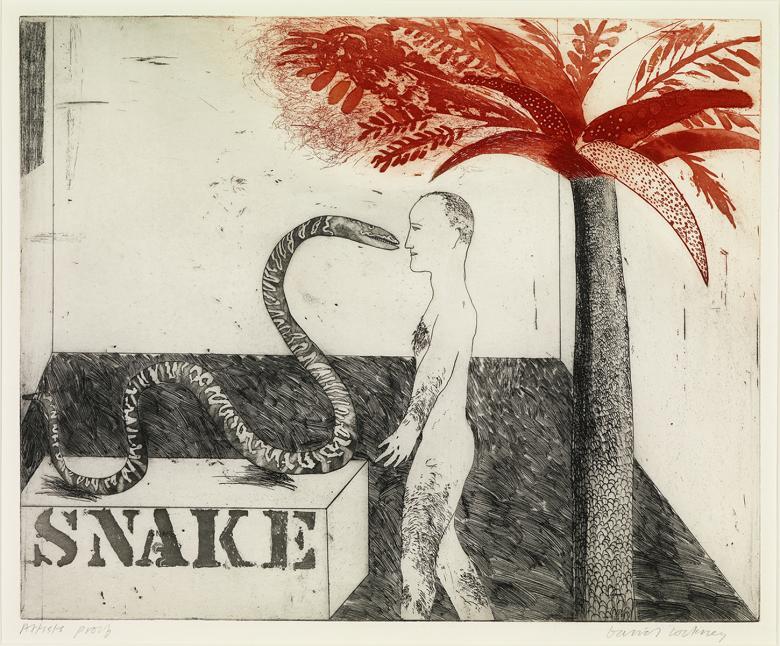 David Hockney (b.1937), Jungle Boy, 1964.
Etching and aquatint in two colours.
Edition of 50. 16 x 19.5".
© David Hockney. Photo Credit: Richard Schmidt
Credit
10 May – 7 June 2021
Print Gallery | Free entry
Spanning almost one hundred years of modern art, this exhibition showcased highlights from the wide-ranging collection of Alexander Walker (1930–2003), longstanding film critic for London's Evening Standard newspaper and prolific collector of modern and contemporary prints and drawings. 
In life, Walker surrounded himself with works from his collection in all rooms of his West London flat including his kitchen and bathroom. He bought works of art for pleasure rather than financial gain and generously left his collection of over 200 works on paper to the British Museum when he died. 
This is the first exhibition in over ten years to showcase the art through the lens of his collection. The exhibition included 30 prints and drawings by artists ranging from Pablo Picasso and Henri Matisse to Lucian Freud, Bridget Riley, David Hockney and Vija Celmins. 
Curator | Anne Hodge
Generously supported by the Dorset Foundation in memory of Harry M Weinrebe.
Alongside Living with art, the National Gallery of Ireland presented a complementary display of prints by Irish artist Brian O'Doherty.
Created in collaboration with Stoney Road Press, the eleven prints underline the dialogue between mind and body that has fascinated the artist throughout his long career. Many are inspired by Ogham script, an ancient Irish translation of the Roman alphabet. These works highlight the National Gallery of Ireland's growing collection of modern and contemporary print. A poignant portrait of Jack B. Yeats in old age, drawn by O'Doherty in 1957, rounds off the display.