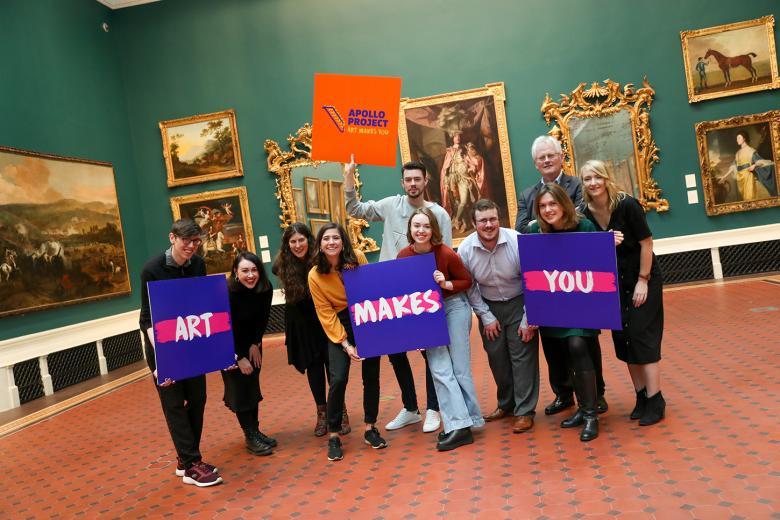 Apollo Project participants with Sean Rainbird, Sinead Rice and Jessica Supple of the National Gallery of Ireland and Clare Mason and Peter Tim Lynch of DesignWorks. Photo: Maxwell Photography
Credit
16 October 2021 – 16 January 2022
Hugh Lane Room | Free admission
Apollo Project is the Gallery's dedicated programme for young people, created by young people. Taking inspiration from the national collection, a team of young people co-curate this new exhibition to bring fresh relevance to the historic artworks of Russborough House.
Giving ownership and a voice to a new diverse, under-represented audience who may feel that the Gallery is inaccessible to it, collaboration with young people is at the core of Apollo Project. In a new partnership between the Gallery and Apollo Project Young Curators, this exhibition is created by a dynamic team of young people with the support of Gallery teams. 
The Apollo Fellowship is made possible through the generous support of the Apollo Foundation.
Curators | Apollo Project Young Curators, Catherine O'Donnell, Jessica Supple
Curatorial liaison | Dr Aoife Brady, supported by Sinéad Rice
If you or your company wish to support our exhibition programme, our Development team will be delighted to speak with you about sponsorship or making a donation. Please call +353 (0) 1 632 5541 to speak to a member of the team.