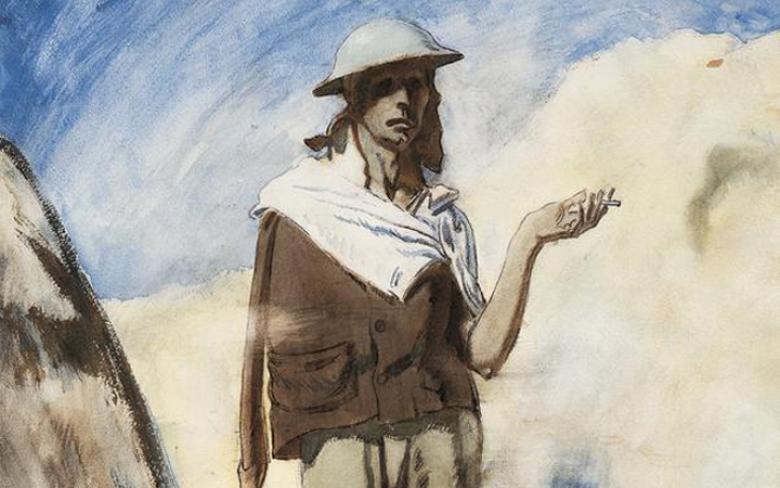 William Orpen (1878-1931), 'Man with a Cigarette', 1917 - detail. Photo © Imperial War Museum.

Credit
Aftermath: The War Landscapes of William Orpen
with 
Garrett Phelan – I HAVE NO RIGHT TO BE SO NEAR
11 November 2017 – 11 February 2018
Room 31 | Free admission
In 1917, Irish painter, William Orpen (1878–1931) went to France as an official war artist, serving with the British Army. He visited the Somme, the site of one of the war's most significant and terrible battles. In its aftermath, he encountered a lifeless wasteland, the result of a prolonged campaign of trench warfare, mining, and heavy bombardment. Orpen was compelled to record what he saw, and painted a series of images showing a mutilated earth, reshaped by the mechanics of modern warfare and populated by human remains.
In his 1921 memoir, An Onlooker in France, Orpen wrote of the horror he had experienced on the Somme. Drawing on this text, as well as Orpen's own personal letters, this exhibition explored a selection of the artist's aftermath paintings as expressions of his struggle to comprehend the profound human trauma of the war. 
On the centenary of William Orpen's service as official war artist, Garrett Phelan was commissioned by the National Gallery to produce a new artwork in response to Orpen's experience of the Somme battlefields in 1917. The title of Phelan's project, I HAVE NO RIGHT TO BE SO NEAR, is taken from the closing line of Orpen's poem, A Memory of the Somme, first published in An Onlooker in France. Under this title, Phelan  created two new artworks, one in sound and the other from clay acquired directly from the Somme. 
 
Curator | Donal Maguire, National Gallery of Ireland