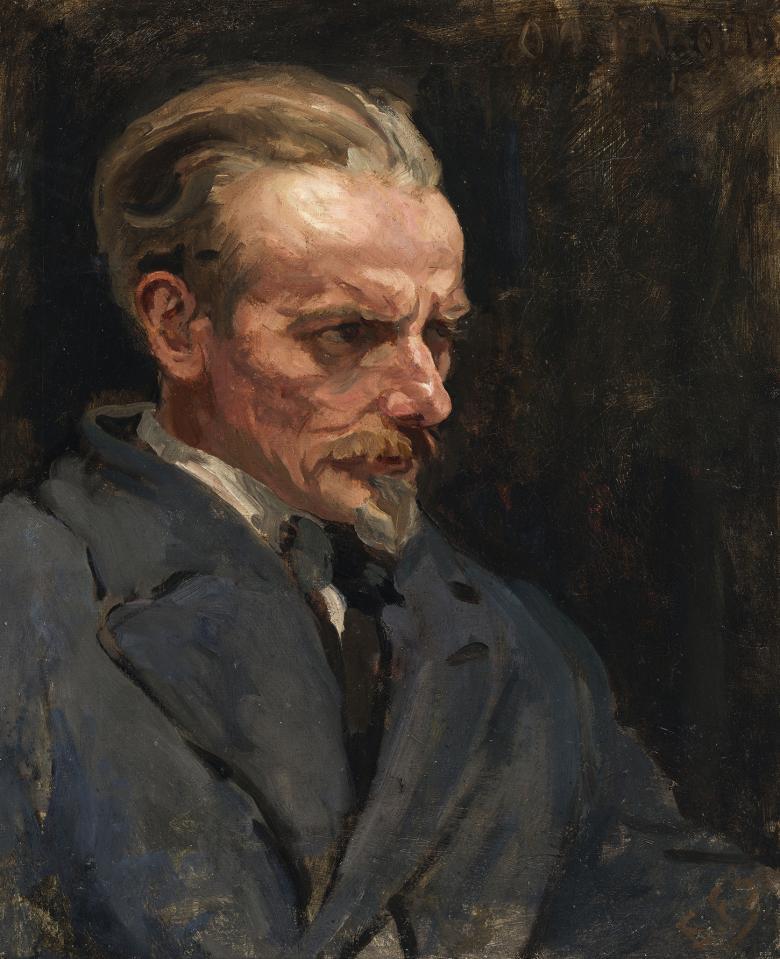 Estella Solomons (1882–1968), On Parole. © The Trustees of the Estate of Estella Solomons.
Credit
On Saturday 3 September 2022 Estella Solomons: Still Moments opens, free to the public, at the National Gallery of Ireland. A member of Cumann na mBan, Solomons depicted key figures of the nationalist movement. Elements of Solomons' personal and professional life, in particular her political associations, will be highlighted in this display, which includes 19 artworks; mainly oil portraits, along with a selection of archival material. The exhibition is one of the ways in which the Gallery is marking the Decade of Centenaries.
Estella Solomons (1882-1968) was a sensitive portraitist and an accomplished etcher and landscape painter who took Dublin, Donegal and Kerry as her subjects. She studied under William Orpen at the Metropolitan School of Art, with Walter Osborne at the Royal Hibernian Schools, and at the Chelsea College of Art, London. After periods in Paris and Amsterdam, Solomons returned to Dublin and set up a studio on Great Brunswick Street (now Pearse Street) that soon became a meeting place for artists, writers and politicians.
Solomons joined the Irish struggle for freedom, and enlisted in the Ranelagh branch of Cumann na mBan (the women's branch of the Irish Volunteers) in 1917. She aided the Republican cause by hiding ammunitions for Sinn Féin volunteers under lettuces she had planted in her parent's garden on Waterloo Road.
Solomons was an artist at the centre of Ireland's revolutionary network, which comprised nationalists from all classes and religious communities – Jewish, Catholic, and Protestant. Her studio was considered a 'safe house', where many War of Independence revolutionaries sheltered. On view in the exhibition, her oil painting On Parole, 1920 is a rare surviving portrait of an insurgent that Solomons painted. She had to destroy a number of her portraits as they would have identified the sitters.
Like many other Irish women patriots, Solomons also played a significant role in the cultural revival. She collaborated with her poet-husband Seumas O'Sullivan on The Dublin Magazine, a literary journal founded in 1923. Together with Kathleen Goodfellow, a lifelong friend and fellow member of Cumann na mBan, she ensured that the magazine had much needed financial support.
Niamh MacNally, curator of the exhibition, commented: "This in-focus exhibition highlights the work of artist, committed nationalist, and Cumann na mBan member Estella Solomons, whose work has been somewhat overlooked for a time. During still moments in her studio on Great Brunswick Street in Dublin, Solomons captured for posterity the likenesses of many leading figures involved in the revolutionary struggle and cultural renaissance. Some of her best portraits, painted during the turbulent revolutionary period, convey a powerful psychological intensity, with sitters caught in private moments of introspection."
Sitters featured in the exhibition include James Stephens (the artist's neighbour and close friend; registrar at National Gallery of Ireland); Sean Milroy (revolutionary and politician); Frank Gallagher (journalist, author and republican); George Russell (artist and writer); Seumas O'Sullivan (poet, writer, editor, and the artist's husband); Joseph Campbell (poet); Alice Milligan (writer and activist); Kathleen Goodfellow (poet and writer); and Darrell Figgis (a key figure in the Howth gunrunning). The exhibition also includes portraits of family members and a garden scene, showing her parents relaxing at their home on Waterloo Road.
Niamh MacNally added: "The exhibition, bringing together paintings and archival material from both public and private collections across the island of Ireland, along with works from the Gallery's own collection, provides interesting insights into the artist's life and political associations."
In addition to her painted portraits, a recent acquisition of one of the artist's etchings, showing a Dublin alleyway, will be included. Items from the Estella Solomons and Seumas O'Sullivan (aka James Sharkey) archive at Trinity College Dublin will also be included. Such items will shed light on the artist's revolutionary activities and network of close comrades.
After the Civil War, Solomons withdrew from her political activities. She was elected an associate member of the Royal Hibernian Academy in 1925. She contributed more than 250 paintings at the RHA from 1905 until her death in 1968. In the later part of her career she turned her attention to painting the landscape of Co. Kerry. She also produced over 90 etchings, aquatints and drypoints, as well as some linocuts. In 1966, on the 60th anniversary of the Easter Rising, she was awarded honorary membership of the Royal Hibernian Academy, where she had exhibited consistently for over 60 years.
Along with works from the Gallery's own collection, painted portraits from Dublin City Gallery, The Hugh Lane, Ulster Museum, Belfast, The Model, Sligo, The Jewish Museum, Dublin, and Trinity College, Dublin will be included. Portraits held in private collections will also be included.
Estella Solomons: Still Moments is on display at the National Gallery of Ireland from 3 September 2022 to 8 January 2023. The exhibition is free, with an accompanying programme of learning events. Find out more at www.nationalgallery.ie.
This exhibition is supported by the Department of Tourism, Culture, Arts, Gaeltacht, Sport and Media under the Decade of Centenaries Programme 2012-2023
Exhibition listing:
Opens: 3 September 2022 
Closes: 8 January 2023
Hugh Lane Room (Room 31), National Gallery of Ireland | Free admission 
Curator: Niamh MacNally, Curator of the Prints & Drawings Study Room
Visitor information at the National Gallery of Ireland:
No booking required – the permanent collection and many temporary exhibitions are free for all to enjoy. Tickets are required for some temporary exhibitions. For opening hours see nationalgallery.ie
About the National Gallery of Ireland:
The National Gallery of Ireland is one of the country's most popular visitor attractions housing the nation's collection of European and Irish art from about 1300 to the present day, and an extensive Library & Archive. Entry to the collection is free for all to enjoy, learn and be inspired.