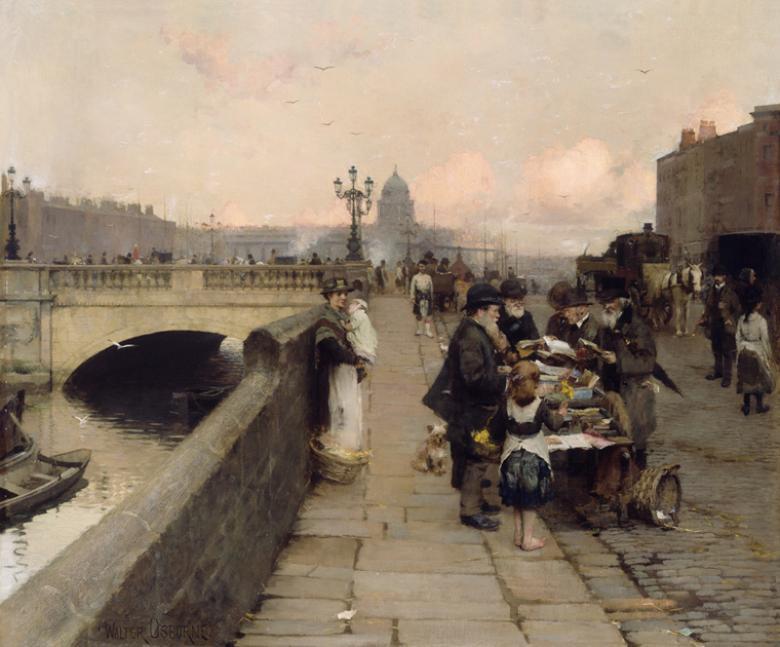 Walter Frederick Osborne (1859-1903), Dublin Streets: a Vendor of Books, 1889. Photograph © National Gallery of Ireland
Credit
Cities and Suburbs: Life, Leisure and Landscape begins on 30 March 2021
Join the National Gallery of Ireland on an online journey through the centuries at Cities and Suburbs: Life, Leisure and Landscape, a new art appreciation course beginning on 30 March 2021. 
This 8-week online course with art historian Dr Kathryn Milligan takes a broad view of artists' depictions of "city and suburb", via paintings, drawings, prints and archival collections at the National Gallery of Ireland. Incorporating Dutch, French, Italian and Irish art, the course covers the seventeenth to twentieth centuries. Walking in the footsteps of the urban observer, participants will follow the expansion of the city into its hinterlands, taking time to relax at suburban beauty spots.
Taking place on Tuesday evenings, each week's session will cover something different: from panoramas and maps to hawkers and street markets, urban calamities to the social city. Participants will receive a recording of each week's session, allowing flexibility in these extraordinary times. The course is suitable for beginners and experts alike.
Limited tickets go on sale on 23 February 2021 on the Gallery's website.
Media contact:
Kate O'Leary, Communications, National Gallery of Ireland [email protected] / 087 334 1587
Notes to Editor:
Images are available on request. 
Joanne Drum (Education Team, National Gallery of Ireland) and Dr Kathryn Milligan (art historian) are available for interview.
Course information:
Title: Cities and Suburbs: Life, Leisure and Landscape with Dr Kathryn Milligan
Price: €140 (20% discount for Friends of the Gallery; 10% discount for students and those aged over 65)
Dates and time: Tuesdays, 18:00-19:15; 30 March – 18 May 2021 (30 March; 6, 13, 20, 27 April; 4, 11, 18 May 2021) 
Format: This course will take place online via Zoom. Each week, after each session, participants will receive a link to the recorded session, which will remain live for one week. This enables those who miss a session to catch up, and even allows for those who want to do the course in their own time. 
ZOOM details: Once you have booked your ticket, you will receive a confirmation e-mail. Link for Zoom event will be sent the day before the first session. 
Schedule: 
Week 1 | 30 March | All Aboard: Approaching the City and Suburb
Week 2 | 6 April | Bird's Eye View: Panoramas and Maps
Week 3 | 13 April | City Cries: Hawkers, Sellers and Street Markets
Week 4 | 20 April | Let's Celebrate: The City 'En Fête' 
Week 5 | 27 April | Fire! Depicting Urban Calamities
Week 6 | 4 May | Paper View: Tourist and Souvenir Views
Week 7 | 11 May | Sea Air: Escape to the Suburbs
Week 8 | 18 May | Raise a Glass: The Social City 
About the National Gallery of Ireland:
The National Gallery of Ireland is one of the country's most popular visitor attractions housing the nation's collection of European and Irish art from about 1300 to the present day, and an extensive Library & Archive. Entry to the collection is free for all to enjoy, learn and be inspired.
About Kathryn Milligan:
Kathryn Milligan is an art historian specialising in nineteenth and twentieth century Irish art. A graduate of UCD (BA) and TCD (MPhil, PhD), following her PhD studies Kathryn was the inaugural ESB Fellow at the ESB Centre for the Study of Irish Art at the National Gallery of Ireland, and an Irish Research Council Government of Ireland Postdoctoral Fellow in the School of Art History and Cultural Policy, UCD. Her first monograph, Painting Dublin, 1886 - 1949: Visualising a changing city, was published by Manchester University Press in 2020.
National Gallery at Home:
Whilst the National Gallery of Ireland is closed, there are many ways to engage with the national collection online. 'National Gallery at Home' includes videos, Works of the Day, Mindfulness and Art, and at-home activities connected to the national collection. Virtual tours of iconic spaces such as the Shaw Room and the Grand Gallery, as well as exhibitions, can be explored from home. A special online version of the Mondrian exhibition, Exclusive Curator's Tour: Mondrian Online is available on demand. Find out more on the Gallery's website.