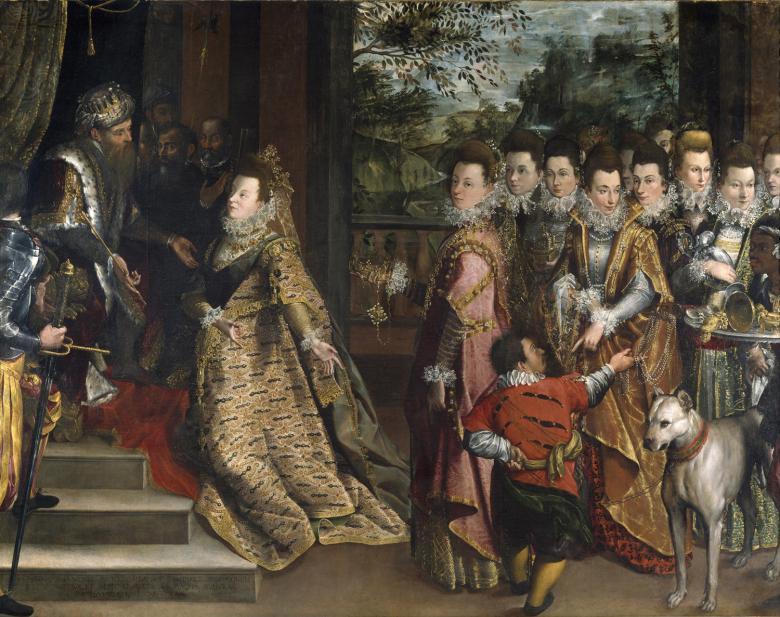 Before conservation treatment: Lavinia Fontana (1552-1614), The Visit of the Queen of Sheba to King Solomon. Photo © National Gallery of Ireland.
Credit
The National Gallery of Ireland has been awarded funding under the Bank of America Art Conservation Project 2018 to support the conservation of the Lavinia Fontana painting The Visit of the Queen of Sheba to King Solomon.
Part of the Gallery's permanent collection, this is the largest-known painting by one of the most renowned woman artists of the Renaissance. 
Commenting, Head of Conservation at the National Gallery of Ireland Simone Mancini, said: "We are delighted that this painting has been identified as one the historically and culturally significant works that will receive a Bank of America grant as part of 21 major art restoration projects in nine countries."
"This funding will allow the National Gallery of Ireland to undertake an 18-month conservation project that will be the first major treatment of the work since it was purchased in 1872. It will involve full-scale conservation of both the painting and its frame, as well as comprehensive scientific analysis and technical imaging. This project will greatly enrich our understanding of the painting and the working methods of this remarkable artist. The aim of the project is to evaluate how Lavinia Fontana's practice and technique has affected the long-term condition of her works. Through scientific analyses we will identify the materials she used, such as pigments and binding media. The technical data we collect will allow a fully informed decision on the most appropriate conservation techniques to use."
Director of the National Gallery of Ireland, Sean Rainbird, said: "The Conservation Project supported by Bank of America is a far-sighted, international programme to help museums care for their treasures and make them more widely available to visitors. The National Gallery of Ireland is delighted to be the recipient – for the second time – of this support. Without this grant we would not have been able to undertake this ambitious conservation treatment."
The Gallery's iconic painting The Marriage of Strongbow and Aoife by Daniel Maclise (1806-1870), was a previous recipient of grant funding from the Bank America Art Conservation Project. One of the most important and popular Irish paintings in the National Gallery of Ireland's collection, it returned to permanent display in the refurbished National Gallery of Ireland in 2017, following an extensive period of conservation and research. A book on the painting's conservation process was published to coincide with the reopening of the Gallery on 15th June 2017. 
Since the Art Conservation Project began in 2010, Bank of America has provided grants for more than 150 projects in 31 countries on six continents to conserve paintings, sculptures, and archaeological pieces that are critically important to cultural heritage and the history of art.