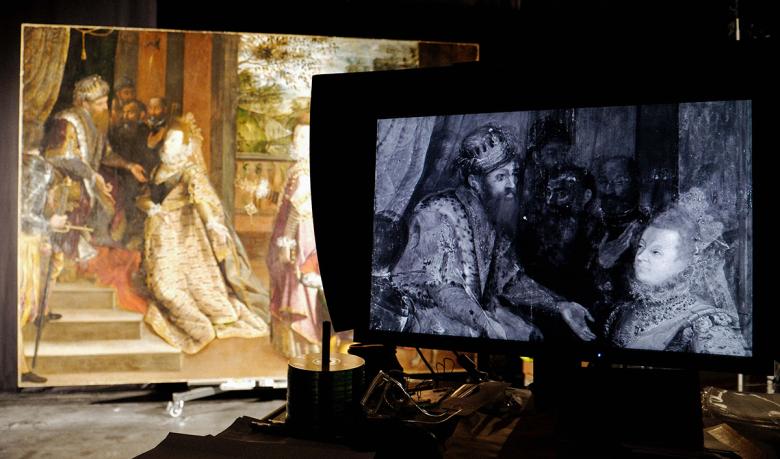 Lavinia Fontana's painting in the photography studio during Infrared inspection. Image © Laura Sheeran.
Credit
New display
On view from 28 October 2021
Room 27 | Free entry
This display (opening 28 Oct.) is free, but visitors must book a free general admission ticket in advance.
Following an eighteen-month conservation and research project generously supported by the Bank of America Art Conservation Project, Lavinia Fontana's celebrated painting The Visit of the Queen of Sheba to King Solomon, 1599, will return to the Gallery's walls. A free display celebrating the transformative process will open in Room 27 at the end of October, where an exciting new acquisition will also be unveiled. A publication showcasing the project discoveries will be available in the Gallery Shop.
The Conservation Project
Shining a light on a Renaissance artist.
The National Gallery of Ireland was awarded funding under the Bank of America Art Conservation Project 2018 to support the conservation of Lavinia Fontana's painting The Visit of the Queen of Sheba to King Solomon. An early addition to the Gallery's permanent collection, this is the largest surviving and most ambitious painting made by one of the most renowned artists of the Renaissance.
This generous funding has made it possible to carry out a comprehensive conservation treatment on this important work, allowing us to address structural issues as well as aesthetic ones. Research into Fontana's materials and techniques informed the conservation treatment, while also revealing fascinating details about the painting and its production.
Who was Lavinia Fontana?
A woman of remarkable talent and achievement, Lavinia Fontana (1552–1614) is known today as the earliest independent professional female painter in Europe. Trained by her father, Prospero, she became a well-respected professional painter and highly sought-after portrait artist in her native Bologna. During her lifetime her celebrity was such that she received a papal invitation to move to Rome, where she was the first female elected to the prestigious Accademia di San Luca.
Funding for the conservation of this artwork was generously provided through a grant from the Bank of America Art Conservation Project.

Discover more about this project