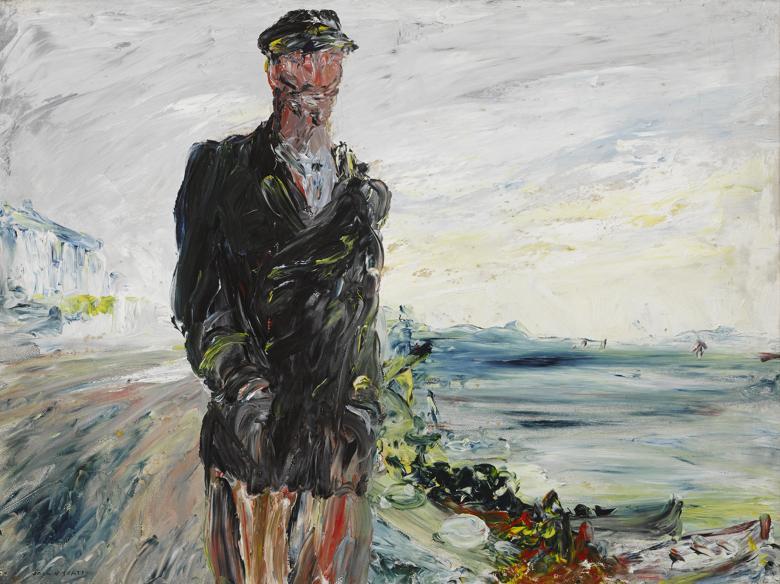 Jack B. Yeats (1871-1957), Pilot Sligo River. © The Estate of Jack B. Yeats, DACS London, IVARO Dublin, 2020
Private Collection. Image courtesy of Whytes.com
Credit
The National Gallery of Ireland has today announced its newest exhibition – Jack B. Yeats: Painting & Memory – will open to the public on Saturday, 4 September, 2021.
Happily supported by Key Capital, the opening of the largest exhibition of Yeats's oil paintings in 50 years coincides with the 150th anniversary of the birth of one of Ireland's most important artists. The exhibition will provide a once-in-a-generation opportunity to see some of Yeats's most important paintings and will explore the role of memory in Jack B. Yeats's life and how it influenced his work.
From his earliest forays into oil painting, Yeats was unusually reliant on memory and retrospection. Memories of childhood in Sligo inspired many of his works, and particular motifs – music and horses prominent among them – recur in his paintings. In this selection of 84 oil paintings spanning more than 40 years, Gallery visitors will view places and people Yeats remembered, his observations of humanity, and reflections on life and loss in his later years. 
An exciting programme of events and activities will run alongside the exhibition. From talks and courses to activities and resources, the programme will be of particular interest to schools, adult lifelong learners, and people living with dementia. A new online art appreciation course focusing on the Yeats family begins on 7 October 2021. Places are limited for this course and tickets are available online from 1 September.
On the opening of Jack B. Yeats: Painting & Memory, Sean Rainbird, Director, National Gallery of Ireland, said: "Yeats's mature career as a painter was a fascinating period: 64% of his oil paintings were created after the age of 60. The retrospection and reimagination that informed the majority of Yeats's oil paintings were those of an individual with a wealth of life experience to explore. The artist recalled in older age the vivid memories of fondly remembered places and a kaleidoscopic range of human encounters and emotions. This subject matter is the focus of the exhibition, which we are proud to display at the Gallery. One of our most prized and visited rooms is filled with paintings by Jack Butler Yeats. We are extremely grateful to all of our lenders for entrusting the Gallery with their works for this landmark show. Thank you to the Yeats family for their assistance and knowledge in compiling this exhibition. Importantly, thanks to Key Capital for supporting this exhibition."
Brendan Rooney, Head Curator, National Gallery of Ireland said: "The 150th anniversary of the birth of Jack B. Yeats has provided the National Gallery of Ireland with the opportunity to remember an artist for whom the act of remembering, and looking back, were of critical importance. Yeats's inclination to look back and draw inspiration from moments and experiences in his past was evident from an early stage in his career. However, it was in oil paint that Yeats would explore most deeply, and communicate most emphatically, his memories of the experiences and encounters that shaped his youth and early adulthood. These included many of the most expressive, vivid, and often cryptic pictures by which the artist is perhaps best known. As Yeats himself said, 'No one creates. The artist assembles memories'. We look forward to welcoming visitors of the Gallery to this latest exhibition." 
In compliance with current Government Covid-19 guidelines, the Gallery is operating a one-way system, and so entry is via Merrion Square only. To comply with health and safety protocols at the Gallery, those intending to visit any part of the Gallery will be required to pre-book free tickets, for contact tracing purposes. Tickets for Jack B. Yeats: Painting & Memory can be purchased online, starting from €5. Tickets can be booked by visiting www.nationalgallery.ie. 

Notes to Editor:
Images are available on request.
Gallery representatives including Director Sean Rainbird are available for interview.
Exhibition information:
Jack B. Yeats: Painting & Memory
Beit Wing, National Gallery of Ireland
4 September 2021 – 6 February 2022
Curators: Donal Maguire (Curator, ESB Centre for the Study of Irish Art) and Dr Brendan Rooney (Head Curator)
Tickets from €5 (entry is free on Mondays, 11am-2pm)
Happily supported by Key Capital
Gallery opening hours:
Mon: 11am – 5.30pm
Tues to Sat: 9.45am – 5.30pm 
Sun: 11.30am – 5.30pm
Visitor information:
All visitors must book a free ticket for entry to the national collection, café or Gallery Shop. Sanitising facilities at all entry points and throughout Gallery. Tours and audio guides are not be available, but versions of Gallery initiatives are available online. Lifts are available but for single use or disability access only. Cloakrooms are closed. Entry via Merrion Square only: a one-way system is in place at the Gallery.
About the National Gallery of Ireland:
The National Gallery of Ireland is one of the country's most popular visitor attractions housing the nation's collection of European and Irish art from about 1300 to the present day, and an extensive Library & Archive. Entry to the collection is free for all to enjoy, learn and be inspired.
About Key Capital:
Key Capital is a full service Corporate Finance and Wealth and Investment advisory firm that was founded in 2001. Its association with the National Gallery of Ireland goes back to its earliest days and this marks Key Capital's third sponsorship of a major exhibition; the previous two being A Time and a Place in 2006, and Leonardo da Vinci: Ten Drawings from the Royal Collection in 2016. Key Capital continues to place emphasis on the role business has in supporting arts and culture in our community.