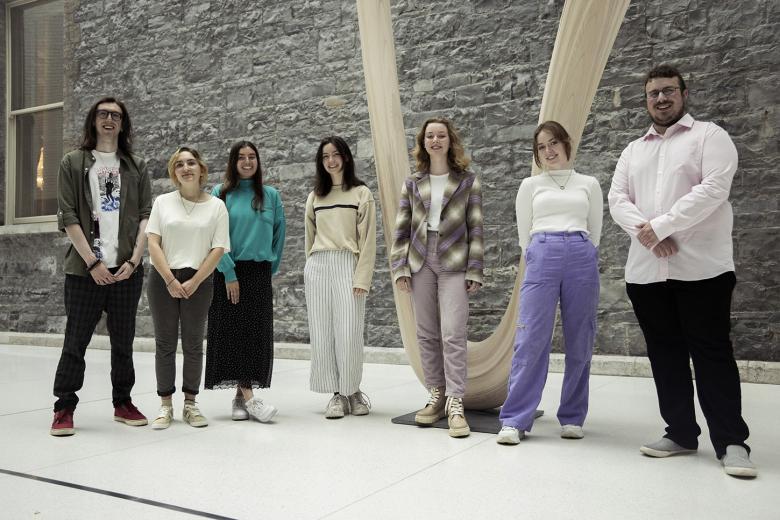 National collection inspires Boring Art?
Taking inspiration from Ireland's national collection, for the first time ever a group of young people curate a brand new, free exhibition at the National Gallery of Ireland. Opening on 16 October 2021, Boring Art? brings a fresh perspective to a selection of historic artworks from Russborough.
This exhibition is part of Apollo Project – the Gallery's dedicated programme created by young people, for young people, which emphasises the importance of co-creating new experiences for audiences.
The team of young people has been working with the Gallery on Boring Art? for over a year. The paintings featured in the exhibition – including portraits, landscapes and biblical narratives – will be displayed under a twenty-first century lens, with talking points including feminism, racism, toxic masculinity and the male gaze.  
Research has shown that many young people feel art is elitist and inaccessible. Boring Art? aims to debunk that narrative. This group of young curators hope to challenge visitors to think again about particular paintings, the national collection, and the Gallery itself by positioning these historic works in a new way.
Tying in with the exhibition, the Apollo Project Young Curators and Apollo Fellow Jessica Supple, have co-created an exciting programme of activities and events. An introductory talk on what it means to be a curator – 'What the Hell Does a Curator Do?' – takes place later this month. With Halloween around the corner, a 'Spooky Art' online workshop will be hosted with Spooky FM writer Peter Dunne. And, over the coming months (October 2021 – January 2022), art lovers can also enjoy mindful audio clippings, attend more interesting workshops or tune into webinars and online discussions inspired by the exhibition.
The group of seven young curators include writer Oisín Kenny; software developer Matthew McNulty; photographer and social media manager Ayesha Ahmad; student, tour guide and artist Jessica Sharkey; student and tour guide Ellen Kane; and students Méabh Scahill and Sarah Hannigan. 
Catherine O'Donnell, Education Officer at the National Gallery of Ireland, commented: "Over the past year I have been blown away by the ideas, creativity and dedication of this incredible group of young curators. Meeting almost exclusively over Zoom, in the midst of a global pandemic, they have researched and re-energised little known works with both humour and a critical eye. Their exhibition is a colourful explosion of questions, provocations and contemporary twists. They have pushed the Gallery to try new things, developed their skills and ensured that young people are at the heart of what we do." 
Young curator Jessica Sharkey added: "This project has blown my mind. The time we have spent working with the Gallery team as young curators has hopefully posed a giant question mark over how we look at the works in our national collection. We opened up a dialogue, explored and intermingled our ideas, resulting in this exhibition, where you're invited to answer the question yourself: is this 'Boring Art'?" 
Young curator Matthew McNulty also added: "I loved working through the process of elimination with the artworks. It required us to research about each painting and each one featured in the exhibition was just universally drawn to us. I loved hearing everyone's reasons for why they wanted their chosen painting to be included in the exhibition."
The free exhibition runs until 16 January 2022 in Room 31 at the National Gallery of Ireland. Find out more at www.nationalgallery.ie
Media contacts: 
Notes to Editor: 
Images are available on request
Exhibition listing: 
Boring Art?
Opens: 16 October 2021
Closes: 16 January 2022
Room 31, National Gallery of Ireland
Admission: FREE
Visitor information at the National Gallery of Ireland:   
Visitors must book a free ticket to visit the Gallery, see nationalgallery.ie. Entry via Merrion Square entrance only. 
Opening hours: 
Mon: 11am–5.30pm / Tues to Sat: 9.45am–5.30pm / Sun: 11.30am–5.30pm 
 
About the National Gallery of Ireland: 
The National Gallery of Ireland is one of the country's most popular visitor attractions housing the nation's collection of European and Irish art from about 1300 to the present day, and an extensive Library & Archive. Entry to the collection is free for all to enjoy, learn and be inspired. 
About the Apollo Project: 
Publically launched in October 2019, the Apollo Project is the Gallery's dedicated programme created by young people, for young people. Creativity, education and wellbeing are at the heart of the Apollo Project, with an emphasis of collaborating and partnering with young people to co-create vibrant and fun experiences in the Gallery. Previous research projects have identified that young people from diverse and under-represented backgrounds feel that the Gallery is elite and inaccessible for them. We believe the Apollo Project can give ownership and a voice to a new audience and that they will feel connected to what is on the walls, listened to and excited to be cultural participants in their own country's national gallery.