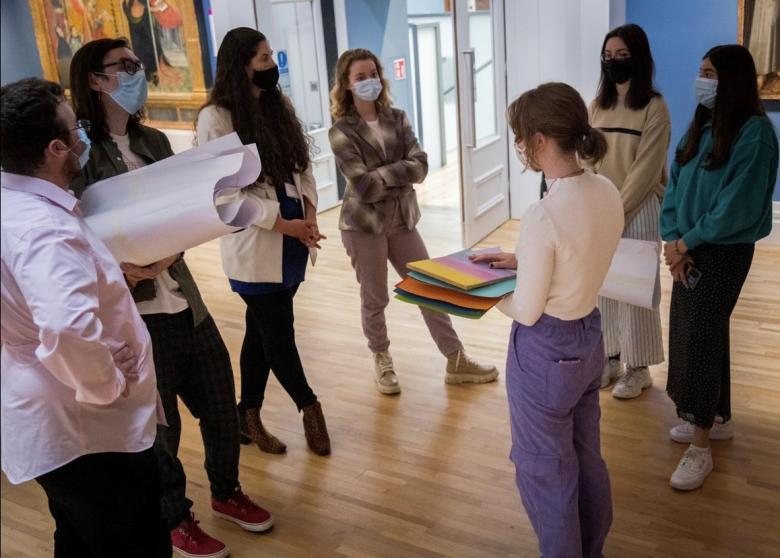 Online Talk: What the Hell Does a Curator Do?
Location

Online via ZOOM

Admission

Free, but booking required.
Join the Apollo Project Young Curators as they open up about the process of curating and making history at the Gallery with their exhibition Boring Art?.
A year ago, when they started this project, the group weren't sure what curating an exhibition would entail. Now, they are ready to reveal all their key decisions and behind-the-scenes gossip. The group will discuss their journey filled with ZOOM meetings, celebrations, preparations, presentations, laughter, and trying to stay within the word count. Bring any questions you've ever had about what the hell a curator does: the Young Curators are here to answer!
Boring Art? is the first exhibition of the Gallery's collection curated by young people, for young people. The seven Apollo Project Young Curators bring a fresh perspective to works that to some, at first glance, might appear 'boring'. The exhibition highlights issues important to young people in Ireland today, and celebrates their voices.
This talk will be live-captioned to ensure that it is more accessible to people who are hard of hearing.
Please note: this is an online event via ZOOM. A link will be sent via email to all ticketholders before the event. Booking closes an hour before the event is scheduled to begin. This talk will not be recorded.
What is Apollo Project?
Apollo Project is a new way to experience the Gallery, designed by young people for young people! Connect with artists, designers, makers and creatives at our monthly events. Hear about their journeys and careers, and learn new skills. Network, ask questions, and be inspired to make art and creativity part of your life. Creativity, education and wellbeing are at the heart of Apollo Project, with an emphasis on collaborating and partnering with young people to co-create vibrant and fun experiences in the Gallery. Believe in your potential. Live a creative life. ART MAKES YOU!