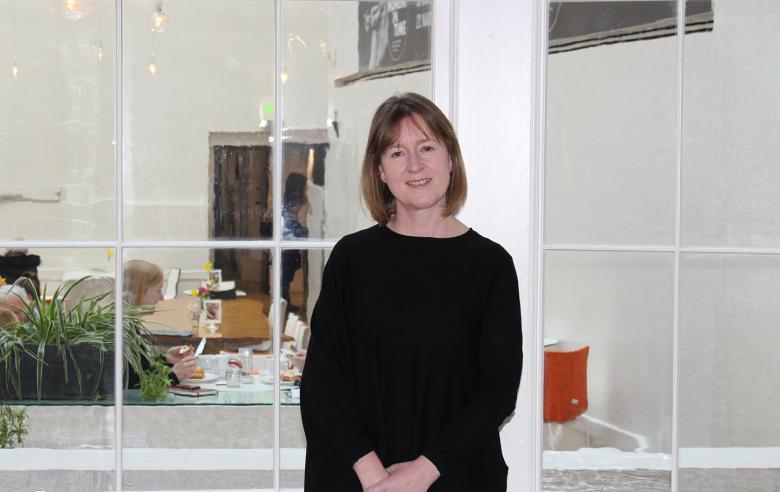 Mary Dowling wears lots of different hats here at the Gallery - as well as working for the Friends of the Gallery, she is also a qualified art historian on our tour guide panel, and leads our yoga classes and mindfulness tours!
Here, Mary talks to us about her job, the unexpected joy of headstands, and the Ferris Bueller endorsed advice she lives by! 
What do you do at the Gallery?
I wear a few different hats at the Gallery. I work part time as Retention Coordinator for Friends of the National Gallery of Ireland, I am an art historian on the tour guide panel, and I also teach yoga in the Gallery.
What is your favourite part of your job?
I love to meet people, and to chat about art and architecture.
What is the best part of working at the Gallery? 
I work alongside a very friendly group of staff and volunteers, and we get to enjoy the artworks in the national collection as part of our day-to-day work. 
What's the most unusual thing that's happened to you at the Gallery?  
We run yoga classes in the Grand Gallery here at the National Gallery, which is quite unusual! The session is a guided tour of the collection, through movement and relaxation. We move through a variety of poses during each session and some of my favourites are the warrior poses which we get to enjoy in front of Dutch artist Jan Wyck's Battle of the Boyne painted in 1693.
What work from the collection surprises you?
Magnus Modus by Joseph Walsh—it's located in our light-filled Courtyard space. The wood has many intricate patterns, and the piece floats up and twists majestically into the air. We run monthly mindfulness tours at the Gallery and I like to bring visitors to this piece where we can enjoy a calming meditation practice together. 
What is your favourite space in the Gallery?
I like to spend some time with the National Portrait Collection. There are some familiar faces represented, and new artworks are added from time to time. I find it interesting to see how an artist has approached the subject, and I wonder what the experience must have been like for the sitter too. It's great to see Colin Davidson's painting, The Day I Heard that Mark Hollis had Died (Self Portrait), hanging now—it was purchased thanks to our Patrons.
What's your first memory of the Gallery?
It's not my first memory, but an exhilarating one all the same. As part of my art history studies I had to give a talk to my lecturers and classmates in front of Walter Osborne's In a Dublin Park, Light and Shade. I was terrified, at first, but when I looked at the people depicted in the work, I found the painting very moving.
What is your secret talent?
Probably not a talent per se, but I practiced how to do a headstand during my training as a yoga teacher. The thought of going upside down was daunting at first, but it feels great, and you get a totally different perspective on the world around you. 
What's your top Dublin recommendation, or your favourite thing about the city?
I was pottering around St Stephens Green recently and came across some sculptures that I had never seen before, including one by Henry Moore—a memorial to W.B. Yeats.
Favourite museum or gallery (apart from the National Gallery of Ireland)? 
So many to choose from, but the Van Gogh Museum in Amsterdam holds a special place for me as I visited with my father many years ago. We were blown away by Vincent's life and work, and I have since read his letters with his brother Theo. I love to stop by and see the painting by Van Gogh here in the National Gallery—Rooftops in Paris. In 1886, Vincent arrived in Paris and the world was his oyster. It must have been an incredibly inspiring time in his short life.
Best piece of advice you've ever received?
Does Ferris Bueller count? His quote from the 1986 film Ferris Bueller's Day Off is wonderful: "Life moves pretty fast. If you don't stop and look around once in a while you could miss it". The Art Institute in Chicago has a starring role in the film too!
 
Thank you, Mary!