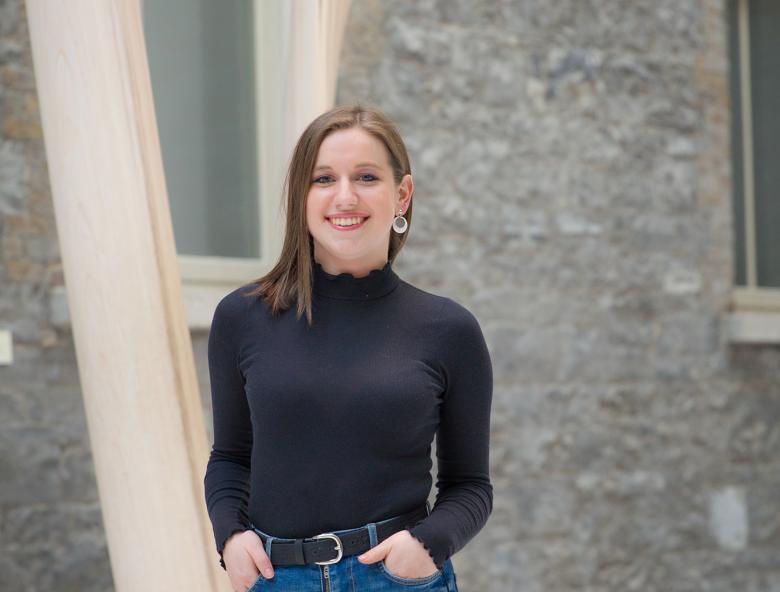 Photo by Jack Caffrey, The Pimlico Project
Credit
Meet the Staff: Sarah McAuliffe, Curatorial Fellow
Here, Sarah talks to us about her job, her secret talent, and some of her favourite things.
What do you do at the Gallery?
I am a Curatorial Fellow. There are many exciting aspects to this role, from researching acquisitions for the Gallery's collection to working directly with artists. This past year, my area of focus has been expanding the Gallery's photography collection and I'm delighted to have co-curated two photography exhibitions at the Gallery this year: View of Ireland: Collecting Photography and Moment in Time: A Legacy of Photographs | Works from the Bank of America Collection.
What is your favourite part of your job?
I love being able to meet contemporary artists and photographers to gain an insight into their practice and to learn about their artworks through their own words. Also, I love the final week leading up to an exhibition. It is full of lots of excitement, and sometimes surprises, that re-energises my passion and interest in the subject(s) on display.
What is the best part of working at the Gallery? 
I always think people make the place and I feel very fortunate to be able to work alongside incredibly talented and gracious colleagues across a wide range of departments in the Gallery.
What's the most unusual thing that's happened to you at the Gallery?  
Not so much unusual as spectacular, but I remember attending my first Gallery event in the Shaw Room and thinking how strangely wonderful it was to be raising a glass and having a dance under the Marriage of Strongbow and Aoife!
What does a typical day look like?
Usually I'm either looking into potential artworks to add to the collection; planning a future exhibition; or writing text for labels and/ or brochures for temporary exhibitions or the permanent collection.
What work from the collection surprises you?
I think I would have to go with Caravaggio's The Taking of Christ for this one on the basis of its incredibly interesting history and the journey it made to end up in National Gallery of Ireland. It never ceases to amaze me how it was discovered after so many years and how fortunate we are to have it on permanent loan at the Gallery.
What is your favourite space in the Gallery?
The courtyard - I love standing there and imagining the moment that the decision was made to extend the Gallery in 1897 in order to showcase further gifts and acquisitions. This space unites two buildings - one dating back to 1864 and the other to 1903 - and it nice to stand in the middle of this moment in the Gallery's architectural history.
What's your first memory of the Gallery?
I came to the Gallery for the first time when I was in secondary school. I remember being struck by Monet's Argenteuil Basin and asking our art teacher when he was coming up in class!
What is your secret talent?
(On the basis of nothing else but a fluke) I'm surprisingly good at poker. 
What's your top Dublin recommendation, or your favourite thing about the city?
Sweny's, a former chemist that was featured in Joyce's Ulysses and is now a second-hand book store where a number of readings of Ulysses and other works by James Joyce are held throughout the week. In fact, visitors are often invited to read Joyce's writings in their own language. Also, I hear there is a "hungry tree" devouring a bench in the park at King's Inn that I must check out!
Favourite museum or gallery (apart from the National Gallery of Ireland)? 
The Frick, New York. I went for the first time this year and fell in love with the building before I even had the chance to see all of the amazing artworks it holds within. I also love everything about the European Museum of Photography in Paris, especially its dynamic exhibition programme.
Best piece of advice you've ever received?
Ask questions.
Thank you, Sarah!