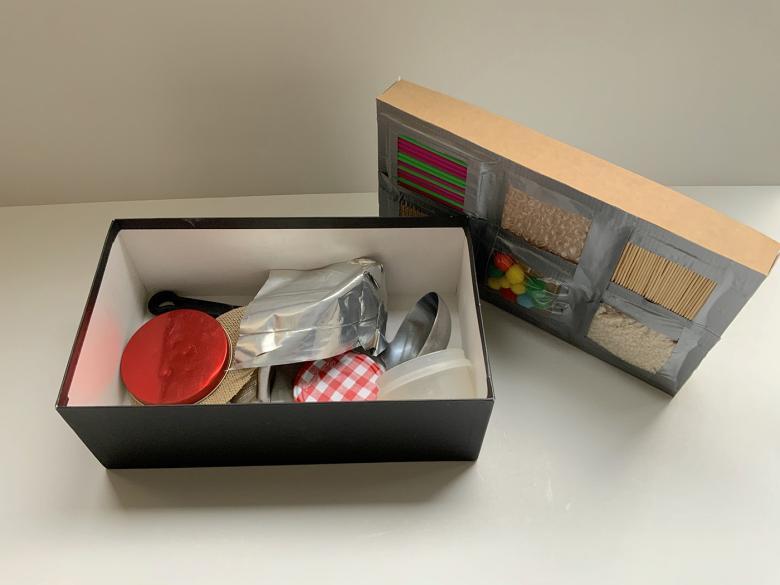 Learn how to make a simple discovery box for your baby using recycled materials
There are many ways you can engage your baby's natural sense of curiosity. Sensory play is a lovely way to bond with your baby, while visual and sensory stimulation are great ways to extend your baby's 'tummy time'.
In this short video, you'll learn how to make a simple discovery box for your baby using a shoebox and some odds and ends you have around the house. The box lid works as a sensory board for 'tummy time', and you can fill the discovery box with objects for your baby to explore with their senses.
In this example, we've selected objects inspired by Midday Meal (1930), a painting by Irish artist Leo Whelan.
Let's get started!
Watch the video!
Because of e-privacy measures on our site, you'll need to click on the cookie symbol in the bottom-left corner of this page and tick the boxes to accept statistics and marketing cookies in order to watch this video. Or, you can scroll down to read the instructions instead, or watch the video on YouTube.
Materials and instructions
You will need:
A shoebox
Plastic freezer bags
Duct tape
Scissors
Ruler
A selection of textured materials e.g. cocktail sticks, rice, straws, bubble wrap, hessian, pom-poms etc.
Some objects to put inside the box e.g. pot lids, fabric etc. You'll be surprised at the different materials you can find around the house!
IMPORTANT: Supervise your baby at all times when they are using the discovery box. 
Instructions:
Using a ruler and pencil, divide the lid into a grid - each rectangle will hold a different textured material. We created 6 rectangles measuring 9 x 8 cm.
If you've chosen loose textures like rice, lentils or pasta, you'll use the freezer bags to house them. Cut two pieces off the end of the bag, fill them with the loose textures, and securely seal the open sides with duct tape.
Lay out the other textured materials on the lid and tape them down securely on all four sides.
Tape around the sides and down the centre of the lid.
If you have some ribbon or decorative tape, use this to add some extra colour to the lid. 
Now, fill the discovery box with lots of interesting objects and textures for your baby to explore. We looked at Leo Whelan's Midday Meal for some ideas. To represent the pots and lids in the background we found some shiny, reflective objects like a small pot lid, a foil container and some recycled packaging. To represent the pattern on the tablecloth, we included a jam-jar lid. We found some blue fabric inspired by the woman's shirt. And, a ladle, small bowl, plastic lid, and sackcloth to represent the other textures and objects.
You can keep your baby curious by changing the objects often. You could choose a new painting to discover each week!
Credits:
Activity by Edel Campbell for the National Gallery of Ireland.
About our Gallery at Home videos:
Inspired by works in our collection and exhibitions, our creative activities encourage families to work together to create their own artworks. They are specially produced videos for babies, older children and for those who require sensory input. You can find all the workshops in this series here. Enjoy!