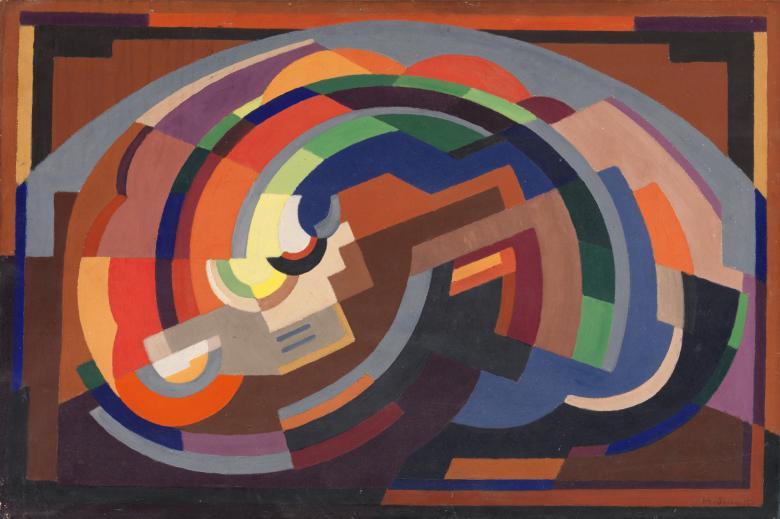 Mainie Jellett (1897-1944), A composition, 1930s. Image, National Gallery of Ireland.

Credit
This division is made up of the Curatorial, Conservation, Education, Exhibitions & Collection Services, and Library & Archives. 
The National Gallery of Ireland's collection encompasses more than 16,000 works of art from around 1300 until the present day. In addition, it houses an important and extensive art library and archive collection. Apart from individual masterpieces by artists such as Vermeer, Rembrandt, Goya, Caravaggio, Gainsborough, Monet and Picasso, the Gallery houses the National Portrait Collection and the world's greatest collection of Irish paintings. 
The collection is at the very centre of the Gallery's work, forming the basis of all our activities and programmes. The Collections and Research Division is tasked with collection care, development, research, display and, most importantly, with sharing our artworks and knowledge with as wide an audience as possible.
The breadth and depth of the collection gives the organisation international standing and, paired with the expertise and networks of our team, has led to high-profile partnerships over the years. Fundamental to the continued relevance of the organisation is the need to extend and enhance our collection. In addition to actively sourcing artworks for acquisition, the Galley is very fortunate to receive gifts and bequests, which are often the result of relationships nurtured and maintained over many years.
Research is core to our activities as a Gallery and crucial to our stewardship of the collection. Collection research takes place in many different areas of the organisation including conservation, curatorial and learning and interpretation. Our study rooms, art library and Gallery archives offer exceptional resources for scholars and staff, as well as for visitors.
In addition to carrying out art historical research, our role is to safeguard the collection by ensuring we achieve the highest standard of collection care. Our collection care research covers areas of gallery practice such as conservation, collections management, archive and library practice, photography.
We communicate our research to the wider public through temporary exhibitions and permanent display, publications, lectures, conferences, as well as workshops, social media and digital content.
In all areas of the Collections & Research division we strive to develop strong networks, using the highest international standards as the benchmark for our work.
Contact us
For further information about the collection and the work of the division please e-mail: [email protected]
Departments
Dedicated to caring for and safeguarding the collections. Read more about Conservation.
Dedicated to researching and exhibiting the collections. Read more about Curatorial.
Dedicated to inspiring, encouraging and supporting learning through art in a positive and inclusive environment. Read more about Education.
Dedicated to collection documentation and exhibition management. Read more about Exhibitions & Collection Services.
Dedicated to supporting research into all aspects of art history. Read more about Library & Archives.