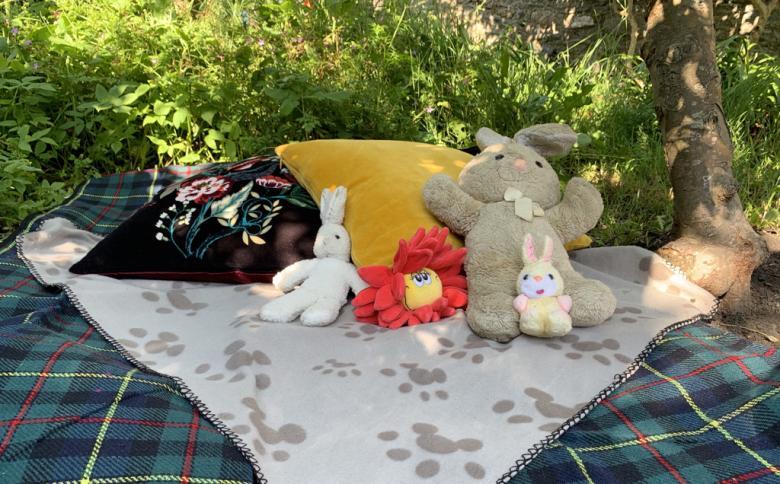 Photo by Ashleigh Downey
Credit
This activity is perfect for parents/guardians to explore with young babies and toddlers; you're never too young to be a botanist!
Babies are natural investigators, eager to explore the world around them. Awaken your baby's senses with colour, texture, scents and natural sounds. Watch this soothing video with your baby, and then follow the simple instructions to make a suncatcher together! This activity is inspired by our past exhibition Drawn from Nature: Irish Botanical Art.
Watch the video!
To watch the video: Due to new e-privacy measures on our site, you'll need to click on the cookie symbol in the bottom-left corner of this page and tick the boxes to accept statistics and marketing cookies in order to watch the video embedded on this page. Alternatively, you can watch it on YouTube.
National Gallery at Home
Baby Botany!
Play
Materials and instructions
You will need:
Paper plate 
Self-adhesive copy film
Scissors
Hole punch
Twine 
Natural materials (edible plants, flowers, leaves, petals and herbs)
Instructions:
Cut the centre out of a paper plate. Then cut the adhesive copy film into a slightly larger circle. (adult only)
Peel away the copy film cover, and stick the adhesive side to the paper plate. (adult only)
With your baby, explore your garden or a park, gathering some non-poisonous natural materials such as edible plants, flowers, leaves, petals and herbs - whatever you can find!
Encourage your baby to place the materials on the sticky centre of the suncatcher.
Punch a hole in the paper plate rim, attach the twine, and dangle outside on a tree or inside on your window. Voila! Your baby's first suncatcher!

A few reasons why nature is important for your baby's development:
Nature allows babies to experience new sensations, stimulating all their senses. 
Time in nature is good for their brain function and essential for their intellectual development. 
It helps babies acquire gross motor skills and aids their hand-eye coordination. 
It helps develop their capacity for creativity and symbolic play.
Fresh air can soothe babies, helping them sleep longer at night.
Credits:
Created by artist Ashleigh Downey for the National Gallery of Ireland.
We are grateful to the Irish Society of Botanical Artists for their support of the education programme for Drawn from Nature.