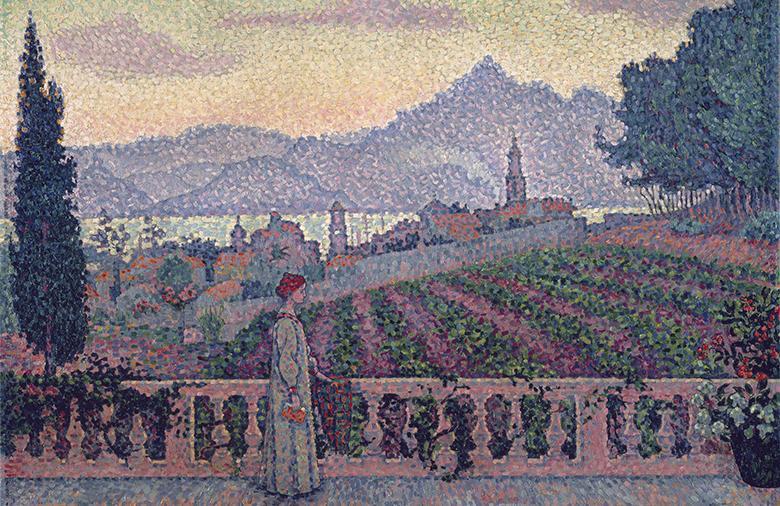 Detail from Paul Signac, The Terrace, Saint-Tropez, 1898. Image © National Gallery of Ireland
Credit
While our onsite activities are reduced, our Education team are bringing some of their family workshops to you online so that you can get creative at home!
This activity will engage your child's senses and is particularly suitable for those who seek out sensory input. 
Inspired by Paul Signac's The Terrace, Saint Tropez, create your own spotty masterpiece. Have fun with food and make your own paint from fruit, vegetables and spices in this sensory activity. 
Signac developed a style called Pointillism. He used lots of little dots of colour to make his painting. When you look from a distance the colours blend together and you can see the whole image. 
Let's make our own Pointillist picture!
To watch the video: Due to new e-privacy measures on our site, you'll need to click on the cookie symbol in the bottom-left corner of this page and tick the boxes to accept statistics and marketing cookies in order to watch the video embedded on this page. Alternatively, you can watch it on YouTube.
National Gallery of Ireland at Home
Sensory Spots
Play
Materials:
An apron or old shirt (things might get messy!)
Some fruit and vegetables - berries, avocado, spinach, beetroot are all good, and anything else you like!
Some spices - Turmeric, Smoked Paprika or whatever you find in your cupboard.
Cocoa powder
Paper
A pencil
Bowls or plates
Instructions:
We're going to use our senses to make the paint. We can see it, touch it, smell it, even taste it!
Divide your ingredients into different bowls.
Use your hands to mash up the berries and the avocado. Cut up the beetroot, and tear up the spinach.
Use a little bit of water to turn the powder into paint.
Draw the outline of your picture with your pencil.
Take some of your new paint, and use your finger to make lots of dots: just like Paul Signac!
Then stand back to see the colours blend together.
You can share your creations with us on our online channels using #NationalGalleryIRLAtHome, or email them to us at [email protected] - we'd love to see how you get on!