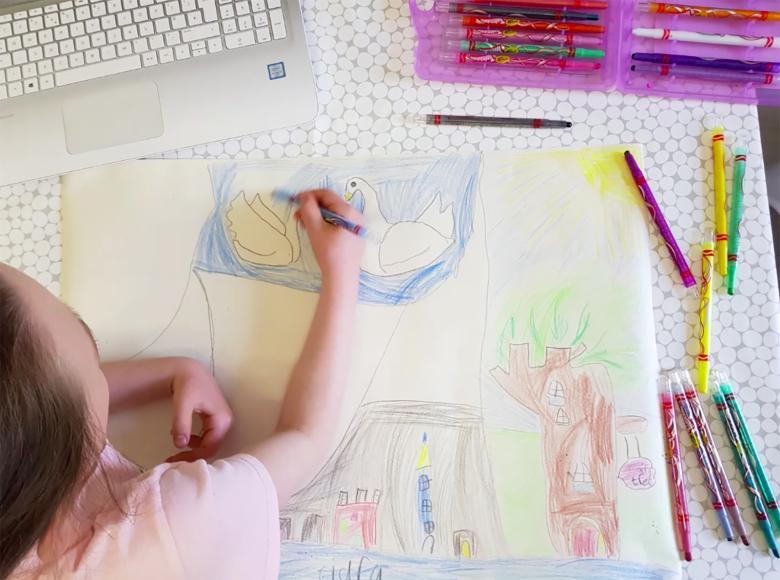 Follow along with this easy video to create a masterpiece inspired by the work of Gerard Dillon!
Follow the steps in the video below and create a collage and crayon drawing inspired by Gerard Dillon's Little Green Fields and your local area.
You can share your creations with us on our online channels using #NationalGalleryIRLAtHome, or email them to us at [email protected] - we'd love to see how you get on!
To watch the video: Due to new e-privacy measures on our site, you'll need to click on the cookie symbol in the bottom-left corner of this page and tick the boxes to accept statistics and marketing cookies in order to watch the video embedded on this page. Alternatively, you can watch it on YouTube.
National Gallery of Ireland at Home
Gerard Dillon
Play
Materials:
A sheet of paper (large, if you have one)
Colouring materials (crayons, markers, pencils, paints)
An old newspaper
Glue stick
Instructions:
On your large sheet of paper, mark out your separate areas. 
Start to fill in each one.
If you like, you can add extra materials (we found some feathers in a cushion!).
When you have finished colouring each section, tear up some small pieces of newspaper. 
Scrunch the pieces of paper into balls. 
Put the glue on your section lines, and stick the balls down in a line.
Continue until all of the lines are covered. 
Credits:
Thanks to Ciara Lawlor (aged 7).
This activity, which would normally have taken place in the Maples Group Creative Space, is now brought to you online.