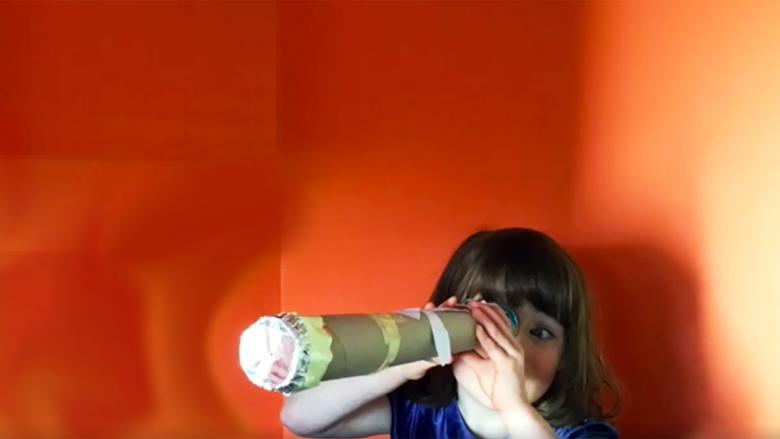 Follow along with this easy video to create your own Camera Obscura! 
Our Education team are bringing some of their family workshops to you online so that you can get creative at home! Follow the steps in the video below and make your own camera obscura, inspired by the early type of camera used by artists, including perhaps by Johannes Vermeer when he painted Lady Writing a Letter with her Maid!
You can share your creations with us on our online channels using #NationalGalleryIRLAtHome, or email them to us at [email protected] - we'd love to see how you get on!
This activity, which would normally have taken place in the Maples Group Creative Space, is now brought to you online.
To watch the video: Due to new e-privacy measures on our site, you'll need to click on the cookie symbol in the bottom-left corner of this page and tick the boxes to accept statistics and marketing cookies in order to watch the video embedded on this page. Alternatively, you can watch it on YouTube.
National Gallery of Ireland at Home
Make your own Camera Obscura!
Play
Materials:
Tinfoil
Baking paper (or the bag from a cereal box)
Scissors
Toilet roll insert
Kitchen roll insert
Sticky tape
Instructions:
Draw a circle on your baking parchment or cereal bag, and cut around it
Cover one end of your kitchen paper insert with it.
Make sure it's flat, and then stick it in place by taping down the sides.
Now take your toilet paper insert, and cover one end of it with tinfoil.
Using your tack or pin, pop a hole in the centre of the tinfoil.
Take your toilet paper insert, and place the uncovered end on top of the uncovered end of your kitchen paper roll, and stick them together.
Decorate them however you'd like!
Now, take a peek through, pointing it towards the light. 
 Everything is now reflected upside down!
Credits:
Thank you to Fia Nic Con Iomaire, aged 5