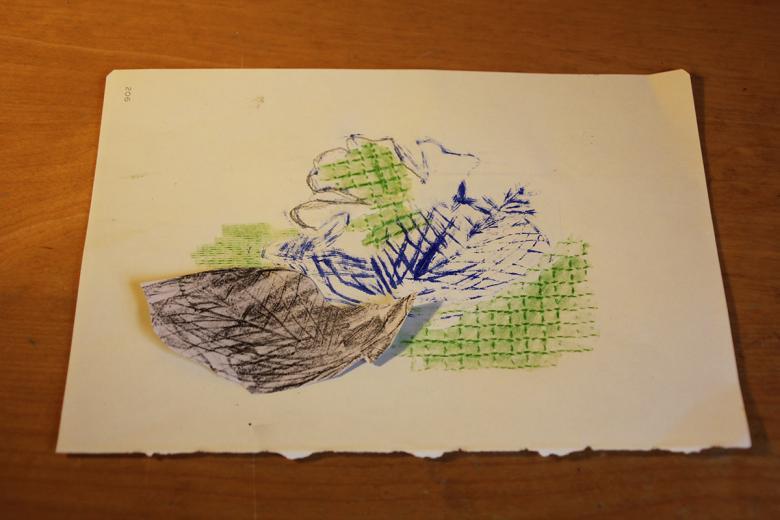 The challenge, if you choose to accept it, is to make your own engraving!
An engraving is a print that is made by scratching a design into a hard surface, usually metal. But, for this activity we're going to use a plastic milk carton instead. Watch the video and then try it out yourself. You'll find all the materials and instructions listed below. This activity is for children (most suitable for ages 5 and up).
Watch the video!
CREATIVE CHALLENGE FOR KIDS
Make an engraving!
Play
Materials and instructions
You will need:
Some interesting objects: try finding a natural object (like a flower or seaweed) and a man-made object (like a plastic onion net)
Two sheets of paper
A pencil
Plastic milk carton (empty and clean!)
Scissors
Needle
A cork from a bottle
Tape
A big spoon
Paint or lino ink 
Cotton buds or a paint brush to apply ink
A cloth or a piece of tissue
Instructions:
Arrange your objects and draw a quick sketch of them.
Ask an adult for some help with the next bit! Cut open a plastic milk carton, and cut out a big rectangle of plastic.
Place the plastic rectangle over your sketch and tape both to the table.
Ask an adult for help again to make an engraving tool by sticking a big sewing needle into a cork.
Use this tool to scratch into the plastic, tracing over the lines of your drawing.
Apply ink or paint to the scratched lines, making sure they are all filled with colour.
Clean the ink off the smooth areas, so it's just left in the scratched lines.
Place a sheet of paper on top of the inked plastic, and use the back of a spoon to rub the page in circular motions.
Lift the paper to reveal your print!
If you like, you can draw some extra lines or make rubbings from a textured material to add patterns.
Finished!
Share your artwork
Would you like to see your engraving featured on the Gallery's website in our new online Creative Challenge Gallery? Take a photo of your engraving, and send it to us by email ([email protected]) or using the online form (linked below) to upload your picture. We'll feature a selection of pictures in the Creative Challenge Gallery, so check back to see if yours is included!
Upload a picture of your artwork using this form
Inspired by...
This is a type of print called an etching, and it was made by Irish artist Fiona Kelly. Like in the Creative Challenge activity above, this print includes things from the natural world as well as man-made objects. Four tiny plants are shown growing underneath glass jars on a big pile of muck and stones. The artist is interested in the ways humans affect the environment and nature.
What emotions does this picture make you feel? Do you think it is hopeful, or sad?
Credits
This activity was devised by artist Bryony Hussey for the National Gallery of Ireland as part of our series of online creative activities for families, adapted from drop-in family workshops that would usually take place in the Gallery's Maples Group Creative Space.