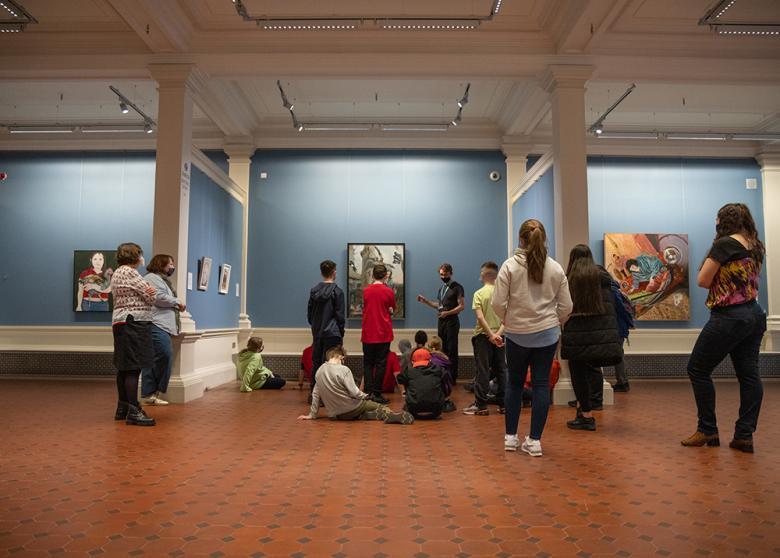 Photograph: Abe Neihum, 2022
Credit
In January 2023, The Gallery will be running the My Primary School is at the Museum project for the second year. The 4th-class students from John Scottus National School will be in residence in the Gallery. For a full week, they will base themselves in the Millennium Wing Studio, using the whole Gallery as their classroom to explore subjects across the curriculum including art, English, maths, geography and history. The students invite you to their Open Studio, to see work produced during their residency and their reflections on how it went.
The students' Open Studio
The students will hold five Open Studio days in the Gallery's Millennium Wing Studio in January and February:
Saturday 28 January, 10am–5pm
Sunday 29 January, 12pm–5pm
Saturday 4 February, 10am–5pm
Sunday 5 February, 12pm–5pm
Monday 6 February, 12pm–5pm
About the project
My Primary School is at the Museum was conceived by architect Wendy James of Garbers & James, and developed in collaboration with the Department of Education & Professional Studies and the Cultural Institute at King's College London. The project was developed against a backdrop of threatened museum services, a shortage of school places, and ever-growing evidence to support the range of benefits of learning in cultural environments and through collections. It tested the benefits of co-locating primary and nursery school classes for extended periods of time within a museum. The initial project consisted of a number of pilot residencies, and the detailed research report identified benefits including:
For children: increased confidence and improved social and communication skills; greater engagement with and sense of 'ownership' of local cultural spaces and places.
For museums: a deeper understanding of younger audiences, enabling the development of more relevant, engaging programmes; an extended use of their spaces and collections.
For schools and teachers: examples of creative ways in which to deliver the curriculum and confidence using out-of-classroom spaces.