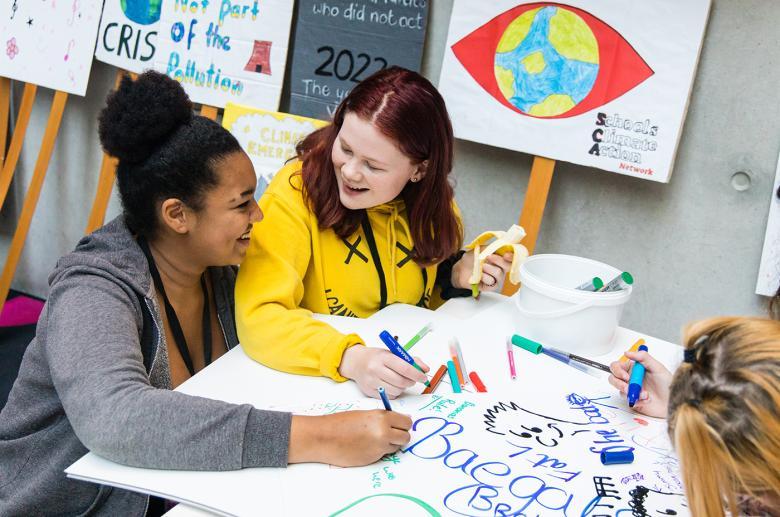 Photographer: Liam Kidney
Credit
Your Gallery at School is a new holistic outreach programme that brings the National Gallery of Ireland directly to schools.
Supported by SMBC Aviation Capital, this project builds on the success of the Gallery's established schools programme and develops new content and partnerships outside of the Gallery walls.
The deadline to apply was 17 September 2021.  We will let you know if your application has been successful by Monday 4 October. 

Key dates
We worked with three primary schools in spring/summer 2021, and will work with three post-primary schools in autumn 2021.
30 August 2021: Post-primary school applications open 
17 September: Deadline for applying
20 September – 1 October: Applications assessed
4 October: Schools informed of outcome 
4 – 22 October: Successful schools paired with lead facilitators to plan tailored programme of workshops
1 November – 10 December: Post-primary schools workshops delivered
Meet the primary-school participants
Interested in finding out more about Your Gallery at School before applying? In this short video, we talk to the three primary schools, selected following an open application process, who participated in workshops in spring/summer 2021. The participating schools were Scoil Chiaráin CBS, Dublin 5; Cliffoney National School, Sligo; and Donagh National School, Donegal.
Your Gallery at School
Primary-school participants 2021
Play
Background to Your Gallery at School initiative
Supported by SMBC Aviation Capital, Your Gallery at School will build on the success of the Gallery's established schools programme and develop new content and partnerships outside of the Gallery walls.
Your Gallery at School aims to break down the barriers that prevent engagement with the arts through holistic programming that ensures children transition to adulthood equipped with the life-changing benefits of art. We also aim to build in students a sense of ownership of their National Gallery so they have a positive place to turn to in adulthood. Engagement occurs in three key strands: learning through and about art, wellbeing, and creative careers.
As children transition through school and on to adulthood in their personal and professional lives, creativity and innovation are transferrable and valuable skills. Art education also offers hope, the confidence and belief that children can create a life of curiosity and engagement with the world.
Art can help to give young people all of these skills and attitudes. However, many children in Ireland today experience barriers to engaging with the arts. If a child does not engage with art in their childhood, studies show they are unlikely to do so as adults.

Partner schools
Over the course of 2021, we will work with six schools – who would not usually be able to visit the Gallery – to create a tailored programme of activities for their students.  
Participating schools will be selected via an open application process. Selected schools will not have visited the Gallery in the past three years and will be from one or more of three key groups:
DEIS schools to address socio-economic barriers to accessing culture.
Boys schools to address the gender barrier to accessing culture.
Schools geographically far away (over 2 hours away from Dublin) to address the geographic barrier to accessing culture.
Workshops
The Gallery will collaborate with each school to identify a class or group of students to work with, who need most support with successful transitions. We will provide a package of three workshops appropriate for the students' ages and school levels, covering the following areas:
Learning through and about art: a practical workshop inspired by the national collection.
Wellbeing: a sensory session focusing on slow looking and mindfulness.
Creative Careers: a talk and Q&A with Gallery staff, and an established artist, enabling students to learn about a variety of arts careers.
Due to the global pandemic, in order to ensure project continuity and successful, safe completion, these workshops will be configured in a flexible 'future proof' manner, mindful of all government guidelines and in dialogue with both schools and facilitators. Workshops may take place physically or digitally.
We will appoint an external videographer and evaluator to document and report on the project. By participating in the project you agree to assist them with their research and for your school to feature in publicity.
The post-primary phase of the project is open for applications from 30 August 2021. The deadline to apply is 17 September.