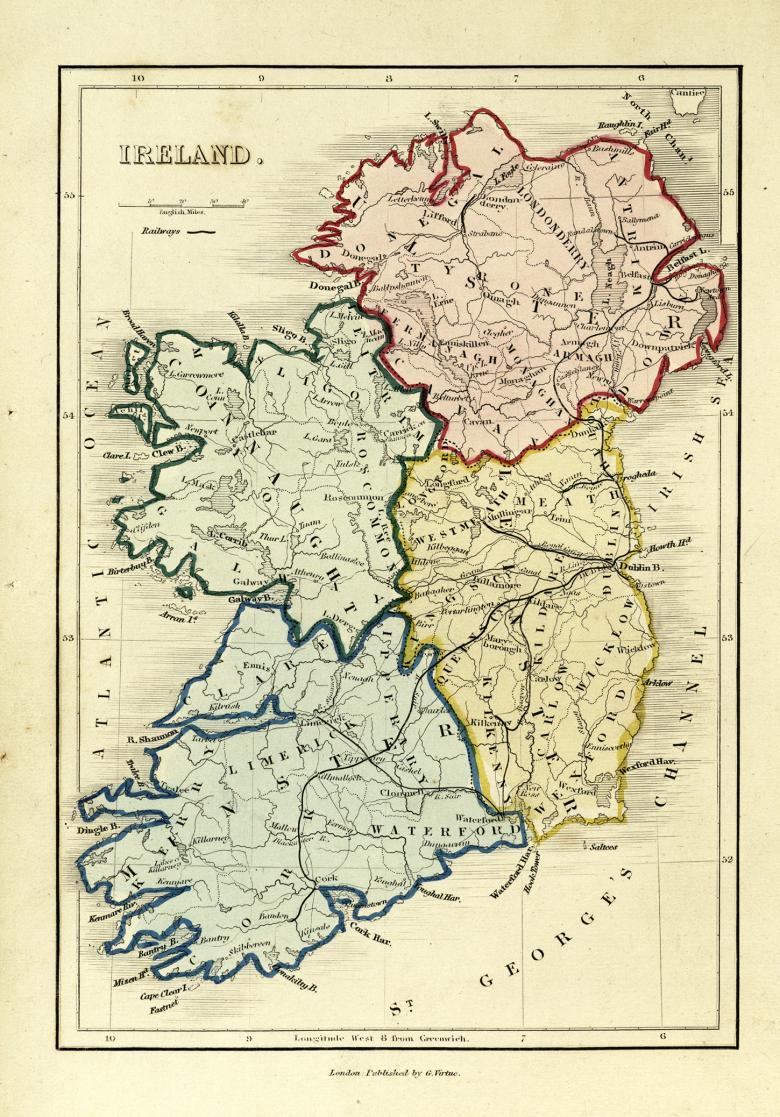 Map of Ireland, from 'Ireland: Its Scenery, Character, &c.', 1841-43.
Credit
A rare book about Ireland
As Saint Patrick is celebrated all over Ireland (as well as worldwide) every year on 17 March, it's no surprise that various sites, artefacts and structures are named after him, too. A selection of them are beautifully illustrated in the rare book Ireland: Its Scenery, Character, &c., which is in our ESB Centre for the Study of Irish Art collection.
This three-volume travelogue was written by Anna Maria Hall (1800–1881) and her husband Samuel Carter Hall (1800–1889). It was printed between 1841 and 1843, and illustrates Ireland in the early 1840s, just a few years before the beginning of the Great Famine. It's a valuable visual record of the decorative, natural and architectural beauties of Ireland as they were at that time. Various artists contributed to the stunning illustrations featured in the volumes.
Engravings of locations which bear Patrick's name
Below you'll find a selection of the detailed engravings from that book illustrating some of the locations around Ireland which bear Patrick's name.
Saint Patrick's Bridge (Cork)
Line engraving by Robert Wallis (1794–1878) after Thomas Creswick (1811–1869)
Saint Patrick's Cathedral (Dublin)
Engraving by Francis William Topham (1808–1877) after William Henry Bartlett (1809–1854).
Saint Patrick's Well (Tipperary)
Woodcut by W. T. Green (fl. 1837–1872) after J. Egan (fl. ca. 1841).
Interior of St Patrick's Cathedral (Armagh)
Woodcut by J. Wakefield (fl. 1840–1870) after Henry MacManus (1810–1878).