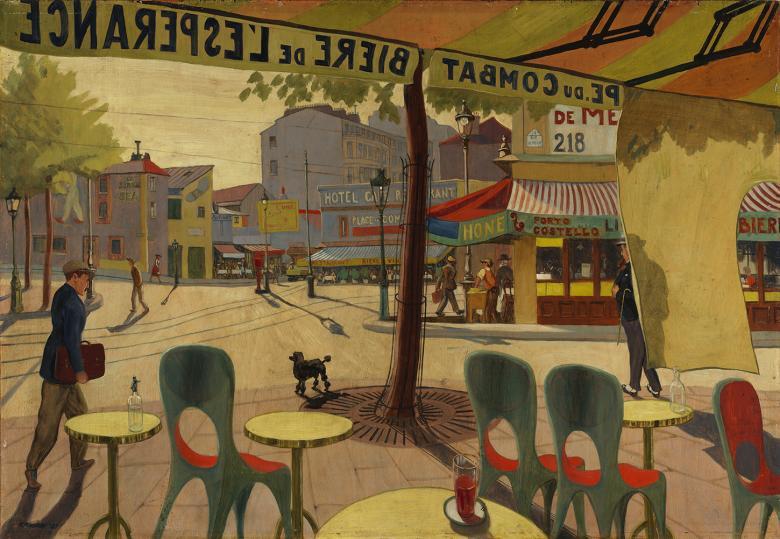 Harry Kernoff, Sunday Evening, Place du Combat, Paris, 1937.
Credit
The enduring appeal of French café culture to Irish artists.
A new acquisition to our collection, Harry Kernoff's Sunday Evening, Place du Combat, Paris is a traditional view from a Parisian café on the Place du Combat (renamed Place du Colonel Fabien in 1945) which lies between the 10th and 19th arrondissements of Paris, not far from Canal Saint Martin. The viewer looks across the Rue de Meaux and the boulevard towards the Rue Louis Blanc. By including a glass of wine on the edge of a table in the foreground, Kernoff implies that he is seated at the café; this effectively places us, the viewer, in the painting as well. The snapshot character of the composition, in which a figure to the right is obscured while others appear to walk into view, reminds us of photography. Kernoff used a similar device in another painting, The Metro, Paris, in which a train line, elevated above the street on metal pillars, emerges from behind another awning at the top left and swings dramatically into the picture.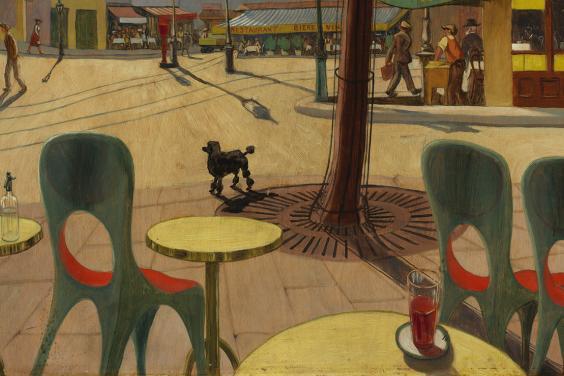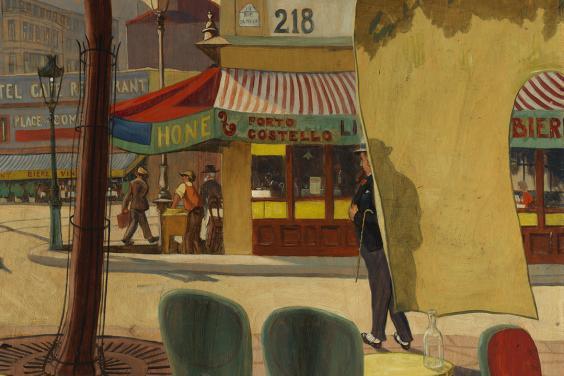 Kernoff's Dublin street scenes
Kernoff produced many similar Dublin streetscapes, of which a number of drawings and paintings are in the Gallery's collection. Kernoff shows real skill in painting places of social gathering, from Davy Byrne's pub in Dublin (below), and MacGillicuddy's Bar, Killarney to the Bloomsbury Café in London.
About the artist
Born in 1900, Harry Kernoff moved with his family from London to Ireland in 1914. He was apprenticed to his father, a cabinetmaker, while studying at the Dublin Metropolitan School of Art. He exhibited at the Royal Hibernian Academy for the first time in 1926 and exhibited yearly until his death in 1974. He produced a huge volume of work in his life, developing a very distinctive style which has captured the essence of some of Dublin's most iconic views.
See this work on display
Sunday Evening, Place du Combat, Paris by Harry Kernoff is on display now in Room 16, Lower Milltown Wing.
Related talk
Join us on Sunday 19 February at 3pm in our Lecture Theatre for a free talk all about Harry Kernoff's urban scenes with Dr Kathryn Milligan.