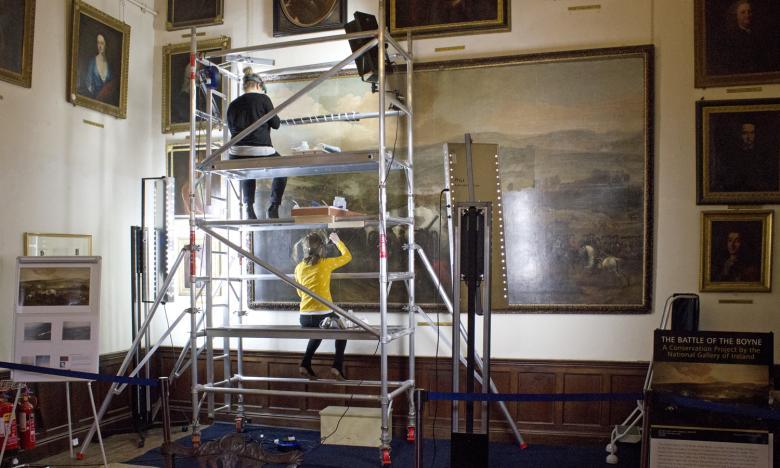 Photo © National Gallery of Ireland
Credit
Overview
Jan Wyck's painting The Battle of the Boyne, 1693 (NGI.988), was the focus of a major conservation project undertaken by the National Gallery of Ireland conservation team, in collaboration with Malahide Castle. This historic and impressive painting was bequeathed to the Gallery by Mr George Jameson, of the distillery family, in 1936 and has been on loan to Malahide Castle since 1976.
The Gallery's conservation team carried out a full-scale treatment of Wyck's painting. Conservators cleaned the discoloured varnish and revived the original palette of the work. Finally, the painting was transported back to the Gallery where it was included in the exhibition Creating History: Stories of Ireland in Art in 2016. The painting was last displayed in the Gallery in 1966 as part of the exhibition, Cuimhneachán 1916: A Commemorative Exhibition of the Irish Rebellion 1916; it is fitting that the painting was exhibited once again to commemorate the 100 year anniversary of the 1916 Rising.
Conservation work on this painting took place in situ in the Great Hall of Malahide Castle, giving visitors to the castle the opportunity to observe conservation activities that would normally take place behind the scenes in the Gallery. As conservation work progressed, key focal points of the painting were researched and photographed in detail. Through collaboration with the Centre for Microscopy and Analysis at Trinity College Dublin, conservators investigated Wyck's painting materials and techniques used in the creation of this dramatic painting.
More information
Download a PDF with more details about the Battle of the Boyne Conservation project