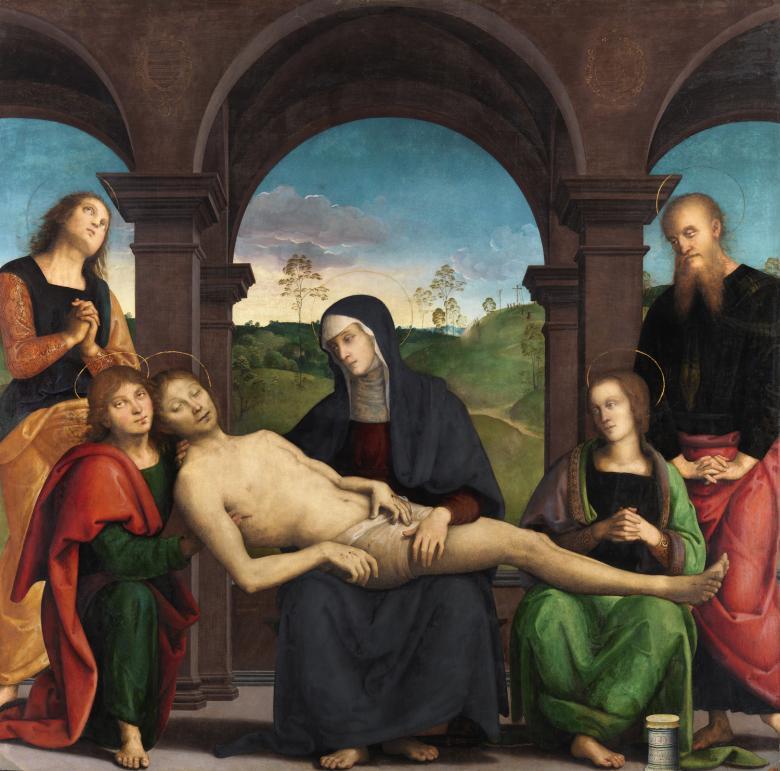 Perugino (c.1450-1523), 'The Lamentation over the Dead Christ', c.1495. © National Gallery of Ireland.
Credit
The Lamentation over the Dead Christ, by Perugino
| | |
| --- | --- |
| Year | c.1495 |
| Size | 169.5 x 171.5 cm |
| Medium | Tempera and oil on wood panel |
| Provenance | Purchased, 1931 (Lane Fund) |
| Number | NGI.942 |
The Virgin is seated at the centre of the picture, holding Christ's dead body in her arms, while his head rests on the shoulder of Saint John the Evangelist. A visibly moved Saint Mary Magdalene is on the opposite side. The two remaining followers of Christ are Nicodemus (left) and Joseph of Arimathea (right). In the distant background are tiny figures leaving the scene of the Crucifixion on Golgotha. This is a scene of great piety, intended to induce deep reflection in the mind of the religious spectator. Between the arches of a three-arched loggia are traces of the arms of Charles Gouffier, a leading courtier of François I and the first known owner of the painting. It was later in the great private Orleans collection. During a period of iconoclasm the head of the Virgin was savagely attacked. A major conservation programme in 2014-15 brought back the colours and definition of the features that had been hidden by later repainting.
Perugino painted two versions of this Lamentation, probably within a short space of time. The panel in the Uffizi, which lacks the sun-filled Tuscan landscape that enhances the picture here, is considered to be the earlier. The artist trained in Perugia and in 1481, along with other important Florentine painters, was invited to the Vatican to decorate the walls of the Sistine Chapel. Thereafter he was mainly active in Florence and in Perugia, creating his own world of saintly figures, with gentle, sincere emotion.
Find out more about the extensive restoration project that was carried out on this painting in 2014-15.