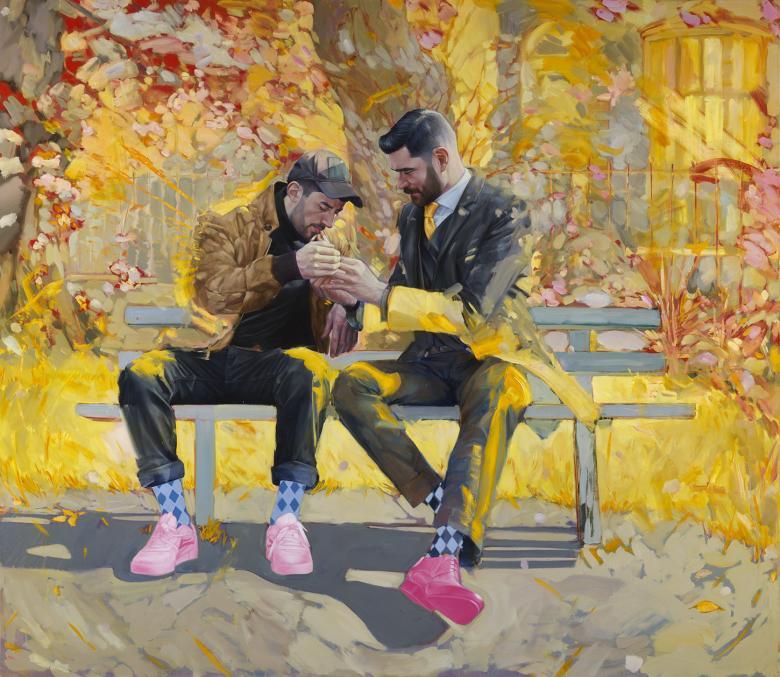 Shane Berkery (b.1992), A Light, 2019. © Shane Berkery. Photo © National Gallery of Ireland, Photographer: Roy Hewson.
Credit
Shane Berkery
A Light, 2019
Oil on canvas, 130 x 150 cm
'This is a painting of a moment shared between two men in a park on a pleasant spring afternoon. The smoker forgot his lighter but that's okay as the suited man has a box of matches in his jacket pocket. The crucial event takes place behind protective hands, which shield it not only from the wind, but also the viewer. I've taken liberties with the background to remedy this obstruction, and accurately colour the nature of this interaction.'
Shane Berkery is a Dublin-based painter, represented by the Molesworth Gallery. He received the NUI Art and Design Award in 2015 and both the Hennessy-Craig and Whyte's awards at the RHA Annual Exhibition in 2016. He was shortlisted for the Hennessy Portrait Prize in 2017 and had a solo presentation at the Start Art Fair in the Saatchi Gallery in London in 2018. He has had two solo shows in Ireland and one in New York and his work forms part of the Irish State Collection.
Go back to the shortlisted works