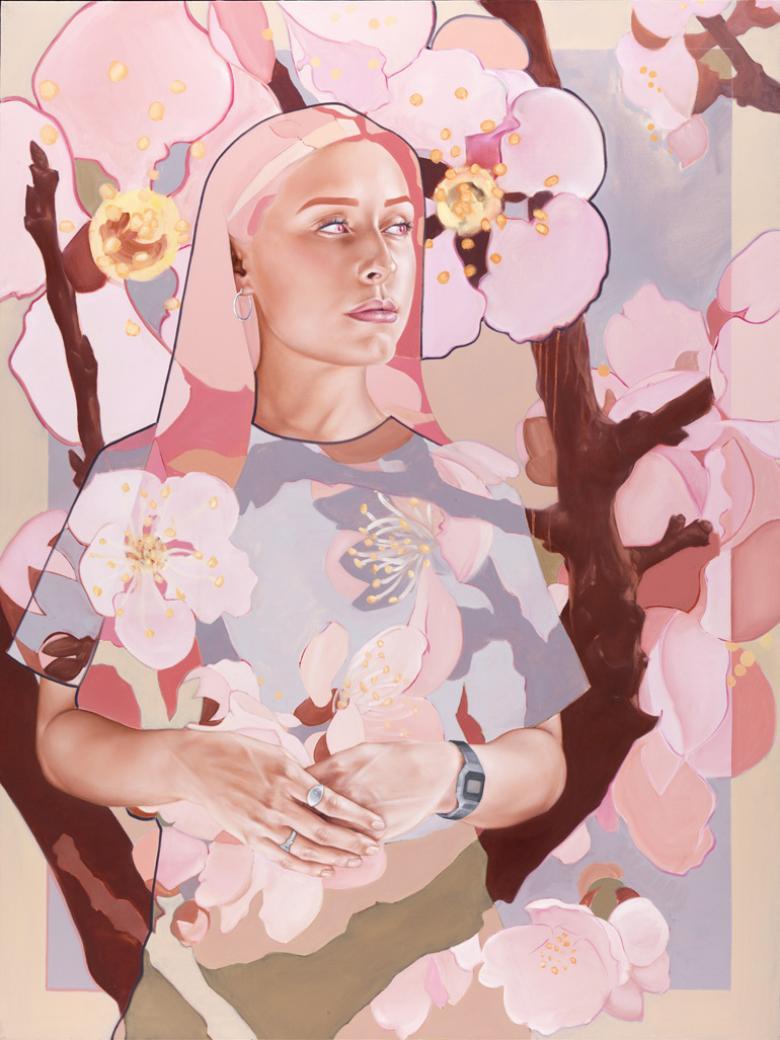 Shane Berkery (b.1992), 'Lady and the Cherry Blossoms', 2017. © the artist. Photo © National Gallery of Ireland.

Credit
Shane Berkery
Lady and the Cherry Blossoms, 2017
Oil on canvas, 135 x 102 cm
"My paintings primarily deal with the human figure. I currently have several streams of work which are informed by my own photos, including nudes and old family photos from my Japanese side. Using these different sources of inspiration I seek to create figures that evoke a sense of 'realness' in a way that the spectator can feel their presence there in front of them. I view my oeuvre as an accumulation of studies into the visual mechanisms by which this is realised, and in each painting the relationship between the various languages of paint (representation, abstraction, colour, composition and degree of completion) are scrutinised. From the purely representational figures in my photographic source material, I extract the sensation of presence and distil it into viscerally 'real' beings on canvas."

Shane Berkery (b.1992) is a Dublin-based painter represented by the Chimera Gallery. He received the Hennessy Craig Scholarship and Whyte's Award at the 186th RHA Annual Exhibition in 2016, and the NUI Art and Design Award in 2015. His work is held in the Irish State Art Collection. Since graduating from NCAD in 2015, Berkery's work has been included in twelve exhibitions. In June 2017 his second solo exhibition was held in the Chimera Gallery, Mullingar.