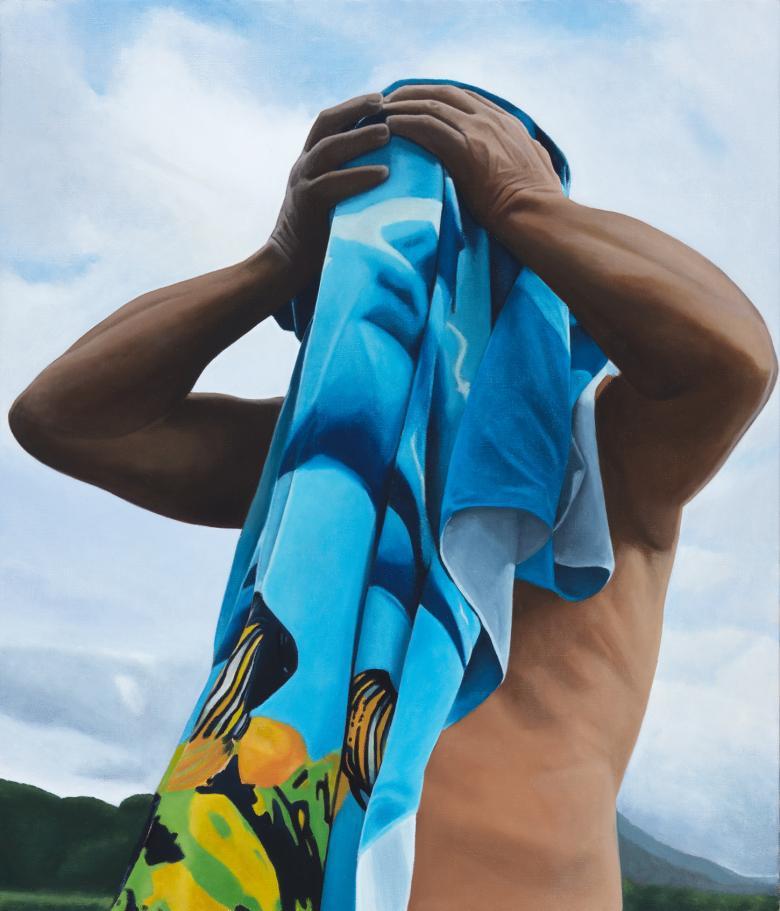 Marcel Vidal (b.1986), À la plage (Dad 1946-2018), 2019. © Marcel Vidal. Photo © National Gallery of Ireland, Photographer: Roy Hewson.
Credit
Marcel Vidal
À la plage (Dad 1946-2018), 2019
Oil on linen, 70 x 60cm
'My dad Jean Marc Vidal was born in Algeria (1946) and was a Pieds-Noirs of French nationality. At the age of 16, he left when Algeria gained independence from French rule. Jean Marc studied at École des Beaux-Arts Paris before undertaking mandatory military service. He moved to Ireland in the late 1970s, joined The Independent Artists and met my mum, Rita Byrne. In 2018, my dad died after suffering from non-specific idiopathic interstitial pneumonia.'
Marcel Vidal graduated from NCAD, Dublin in 2009. In 2019, he received the Golden Fleece Award, and was also shortlisted for the Hennessy Craig Award at the RHA, and the Merrion Plinth Award. In 2018, he exhibited at The Dock, Leitrim; the RHA, Dublin; Tulca Festival of Visual Arts, Galway; Kevin Kavanagh Gallery, Dublin; and The Sailor's Home, Limerick. In 2017, he exhibited at the Kerlin Gallery and Temple Bar Gallery + Studios, Dublin. His work will feature in Kurt Beer's forthcoming publication, 100 Sculptors of Tomorrow (Thames and Hudon, 2019), and in the Ashford Gallery, RHA in 2020.
Go back to the shortlisted works