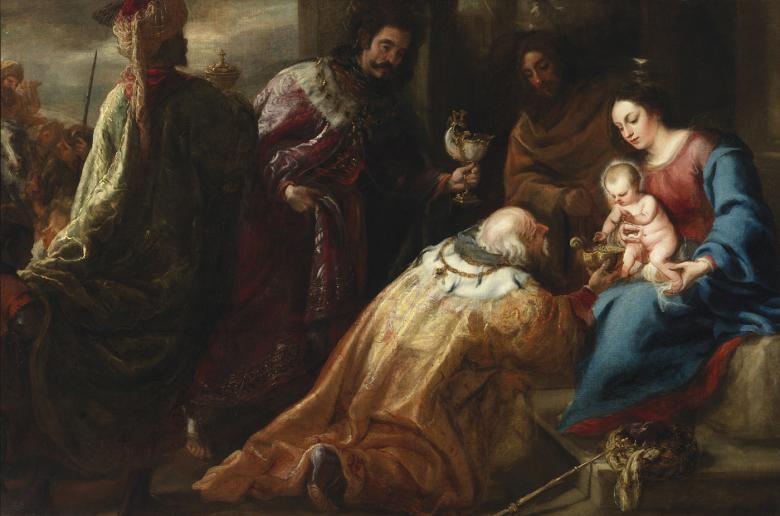 Juan Carreño de Miranda (1614–1685), The Adoration of the Magi, mid 1660s. Photo © National Gallery of Ireland.
Credit
The Adoration of the Magi, by Juan Carreño de Miranda (1614–1685)
| | |
| --- | --- |
| Year | Mid 1660s |
| Size | 157 x 237 cm (unframed), 162 x 241 cm (framed) |
| Medium | Oil on canvas |
| Provenance | Purchased, 2020 |
| Number | NGI.2020.101 |
In the Western Christian calendar, 6 January marks Epiphany, which commemorates the first encounter between the Three Kings (or Magi) and the newborn Christ. It is a holiday of particular significance in Spain, where it is known as el Día de Los Reyes Magos.
This newly acquired painting by Spanish artist Juan Carreño de Miranda illustrates the Kings' visit, carrying gifts of gold, frankincense, and myrrh. In a naturalistic rendering of a familiar biblical scene, Carreño delights in the depiction of the luxurious robes of the Magi, paying close attention to the play of light across their silks, ermines, jewels, and turbans, and creating a feast of texture. In the centre, Melchior holds a nautilus cup, made from a rare seashell found in the Indo-West Pacific.