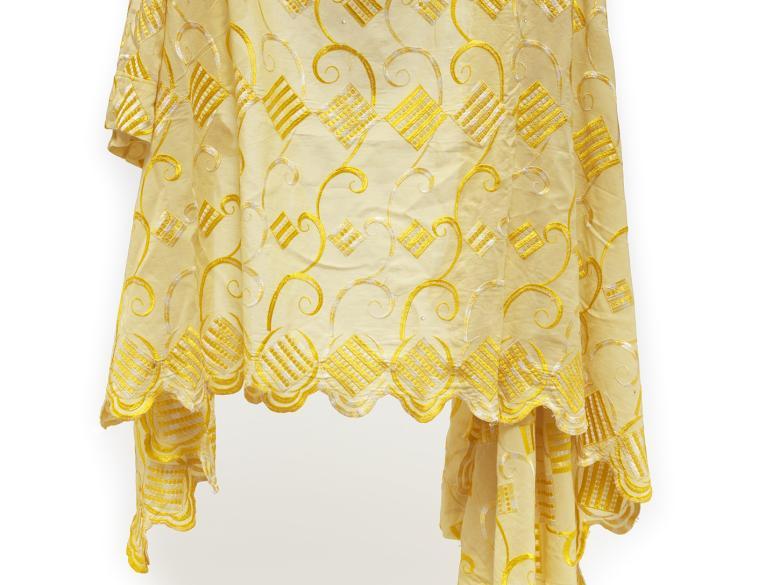 Owodunni Ola Mustapha
The Yellow Wrapper, or My Yellow Sister 
1.
I'm my sister Ola's keeper.
I'm made of cotton, 60cm long, fashionable, glamourous. 
My sparkly colour radiates.
The feel of my skin against your skin brings comfort.
I feel so majestic, adorning your body while assuring you of my support.
I might be old and wrinkled, but I'm here with you through the ups and downs.
I'm the custodian of your ancestral culture, passed down from generation to generation. 
Match me with your buba and gele and I transform you into an African goddess.
The black, shining beauty of the melanin in your skin penetrates my horizon. 
I'm the shield for your naked body, protecting you from the preying eyes of vultures.
I'm your yellow ray of sunshine, your paw paw that can't be hidden.
I'm your companion, your yellow sister. 
2. 
For 13 years I have been among her collection of treasured items,
bought modestly, though Ola's mum could barely afford anything extra for herself.
Still, I was cherished, made of fine cotton, inherited from mother to mother.
When my sister Ola got pregnant,
I was given to prepare her departure to her matrimonial home, as is the Nigerian custom;
an intended bride dresses in native attire.
My sister had none, but mum came to her rescue,
retrieved me from her treasured collection, handed me over.
At first she didn't feel comfortable wearing me, but eventually let me hug her body.
She adorned me with her buba and gele – I looked amazing on her!
I was her first traditional companion.
I was with her when she met her new family,
her brown and shiny skin peering through me.
I also accompanied her on her journey to motherhood,
representing the bond between a mother and her child.
The baby was 9 months old when we left Africa,
I helped to harness her, relieving some of the stress of holding the baby.
I toured Dublin's city centre with her,
so many people staring, judging us awkward, the way I held the baby.
I didn't mind the looks on peoples' faces,
they just didn't know, or wanted to ask questions but were afraid to ask.
I represent an integral part of African culture,
custodian of a woman's virtue.
I bring respect to other African women who have one like me. 
Some days I get wet from all the rain here,
other days, I get a bath, doused in sweet smelling perfumes,
my rumpled skin is smoothed with warmth.
I know what my sister Ola is thinking:
I feel safe when it's close to me. A tiny bit of where I come from, it acknowledges my origins and my existence. Bitter sweet memories of places long forgotten, or just hidden in tiny far away places in my mind, raw and rusty places.