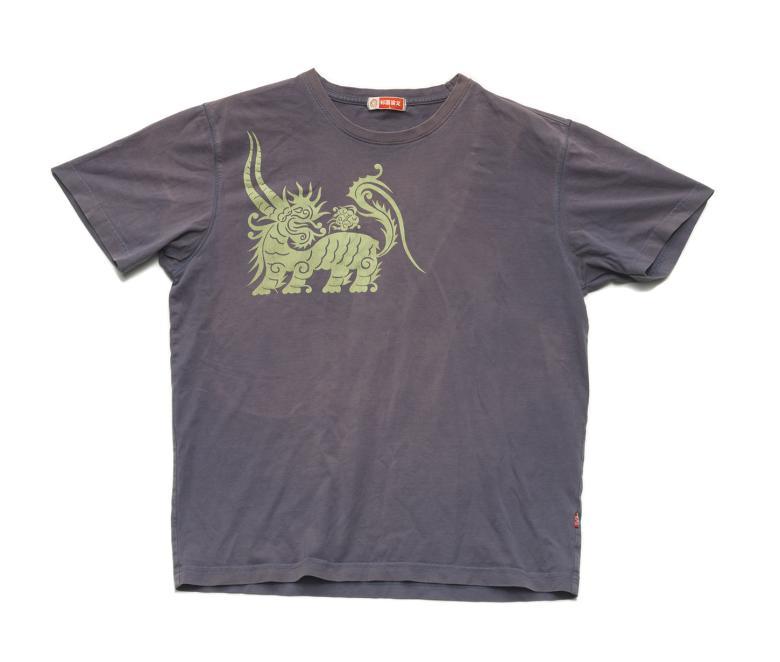 Evgeny Shtorn
"I don't remember Malaysia, where I was made. I spent barely a month there, then, pretty soon, I was bought by a guy who then never wore me. Well, maybe just once, I forget. 
Then I was given to Evgeny. I remember that day so vividly: I was in my wardrobe, among hundreds of others; it was lovely, dark and warm in there. Then, suddenly the door of the wardrobe flew open, and the guy – I'm struggling to remember his name, I tell you I forgot everything – anyway, he took me and gave me to Evgeny. You see, the guy and his husband were moving from St. Petersburg back to their home, and he remembered some T-shirts that were too small for him, and he wanted to give some of them to Evgeny. He was so happy. We all are real treasure. Expensive, fashionable, unique. 
Evgeny took me and the others to his home. I spent all winter and a cold Russian spring in that wardrobe. Too cold to wear me, so I remained like new, despite the fact that I was already several years old – almost ten, actually, a very serious age for a T-shirt, even one that's fashionable and posh. 
August 2017 arrived. I heard Evgeny saying to Alexander that he was very tired of his hectic job and stress, and that he wanted to go to the warm sea, to spend some days eating fruit and sleeping in the shade. He stuffed me into his backpack with some other clothes and we went to Anapa, a small southern Russian city on the coast of the Black Sea. We arrived pretty late, but the guys immediately went to swim. They were so happy. They hadn't been on holidays in a couple of years. 
The next morning, Evgeny put me on. I was so lovely, so new, this unique lilac colour that only real artists can achieve. I was starting to attract the gazes of happy Russians (you only see them that happy on holidays). The guys went to swim again, and Evgeny left me on the sand. The sun was so bright, I wasn't used to it, having lived peacefully for years inside of wardrobes. I got burned and lost my colour, my attractiveness. Evgeny was very upset, I remember. 
Then he wore me from time to time under his turtlenecks, or instead of pyjamas. Not so often, though. And then that winter came: he grabbed me, he was in a real rush. He put me into his backpack, and we all went to Moscow. They were so stressed. I didn't understand anything. I just felt something bad was happening to him. They barely spoke. They were very scared.
I was left in that backpack for a month or so. It was very cold. All I knew was that we were in Ireland. Eventually, Evgeny took me out of the backpack and suddenly started crying, giving me hugs and crying. I didn't understand a thing! 
Now I'm in the National Gallery of Ireland. People are looking at me, surprised. But I always knew I was made for glory, glamour and gold!"