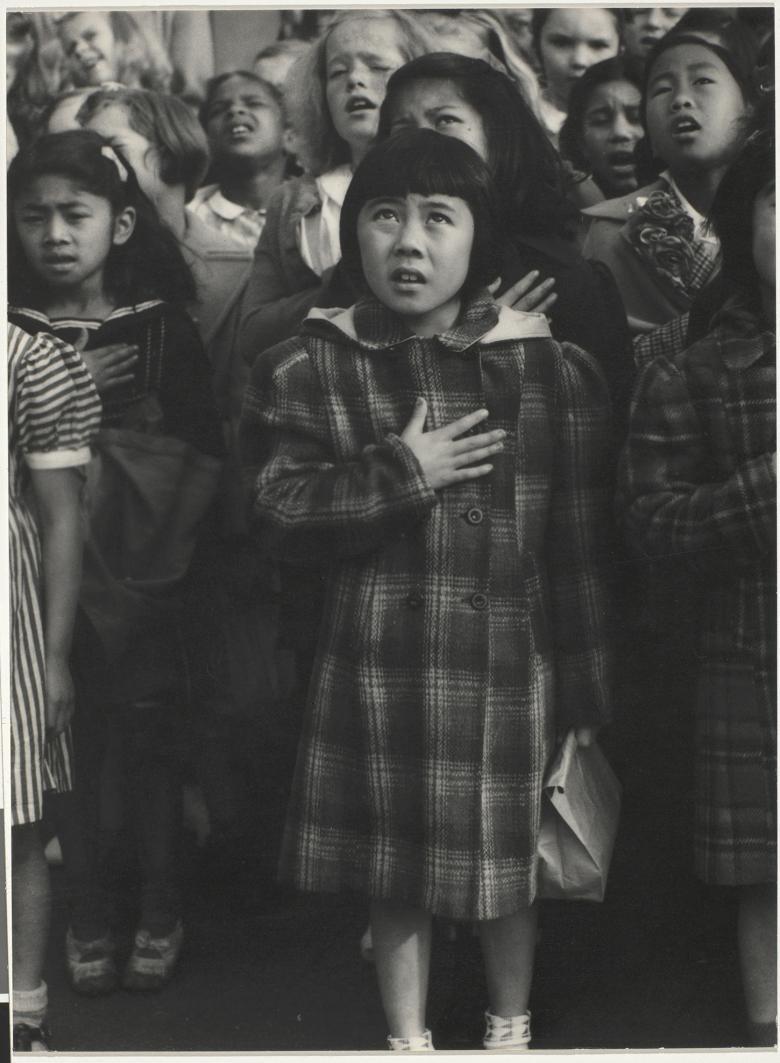 Dorothea Lange (American, 1895–1965), One Nation Indivisible, 1942. Gelatin silver print. Bank of America Collection.

Credit
This photograph by Dorothea Lange from our 2019-2020 exhibition Moment in Time:  A Legacy of Photographs | Works from the Bank of America Collection shines a spotlight on a dark moment in US history.
"This is what we did. How did it happen? How could we?" - Dorothea Lange.
In February 1942, two months after the Japanese bombing of Pearl Harbour, the lives of thousands of Japanese Americans were changed utterly when President Franklin D. Roosevelt signed Executive Order 9066. This order authorised the Secretary of War to "prescribe military areas […] from which any or all persons may be excluded". In practical terms, this meant that most of the West Coast of America was soon classified as a military area, with all people of "Japanese ancestry" marked for exclusion.
Within weeks of this order being signed, Japanese and Japanese-Americans on the West Coast were directed to sell their houses, abandon their work or studies and report to "assembly centres" (makeshift temporary accommodation in fairgrounds and racetracks) bringing with them only those essentials which they could carry. Pets were expressly forbidden, and new homes had to be swiftly found for them. From here, the evacuees, almost two thirds of whom were American-born citizens, were moved to one of ten remote, purpose-built internment camps where they would spend much of the remainder of the war.
Documenting the camps
Dorothea Lange had chronicled the displacement of farming families and migrant workers for the Farm Security Administration during the Great Depression of the 1930s, and was now among the photographers appointed by the US government to record the enactment of Executive Order 9066 and the subsequent internment of Japanese-Americans at these so-called "relocation camps". Her most famous photo from that project (above, and on display here as part of our Moment in Time exhibition), shows children respectfully pledging allegiance to the American flag at an elementary school in San Francisco shortly before they and their families were moved to the camps.
Although Lange was strongly opposed to the enactment of this Order, she felt that it was important to record what has happening, and at the end of March 1942 she began documenting the process of this forced removal of people in Northern California. Other photographers tasked with recording this bleak chapter in US history were Russell Lee, Charles E. Mac and Clem Albers.
Lange's assignment ended in July of 1942, although the camps remained fully operational for almost three more years. Lange wrote to her friend and fellow photographer Ansel Adams (whose work you can also see in our Moment in Time exhibition) in November 1943 encouraging him to take up an invitation to document conditions in one of the camps, Manzanar, writing: "I fear the intolerance and prejudice is constantly growing. […] You have a job on your hands to do to make a dent in it - but I don't know a more challenging nor more important one. I went through an experience I'll never forget when I was working on it and learned a lot, even if I accomplished nothing" (Quotation from Jasmine Alinder's Moving Images: Photography and the Japanese Internment).
Redress and apologies
Although the exclusion orders were lifted by President Roosevelt in December 1944, it took many months before all the evacuees were able to leave, and the last camp did not close until March 1946. In 1988, the Civil Liberties Act was signed by President Ronald Reagan, apologising for the internment and providing for reparations, but it was not until 1990 that letters of apology, signed by then President George H.W. Bush, were sent to 82,000 survivors of this mass internment along with redress payments of $20,000. 19 February 2020 marked the 78th anniversary of the signing of Executive Order 9066 which set this sad episode in history in motion, and today the date is commemorated as a Day of Remembrance in the Japanese American community.
See this and over one hundred other iconic photographs with intriguing stories behind them in our exhibition Moment in Time: A Legacy of Photographs | Images from the Bank of America Collection until 20 September. 
This exhibition is made possible through the Bank of America Art in our Communities® program.