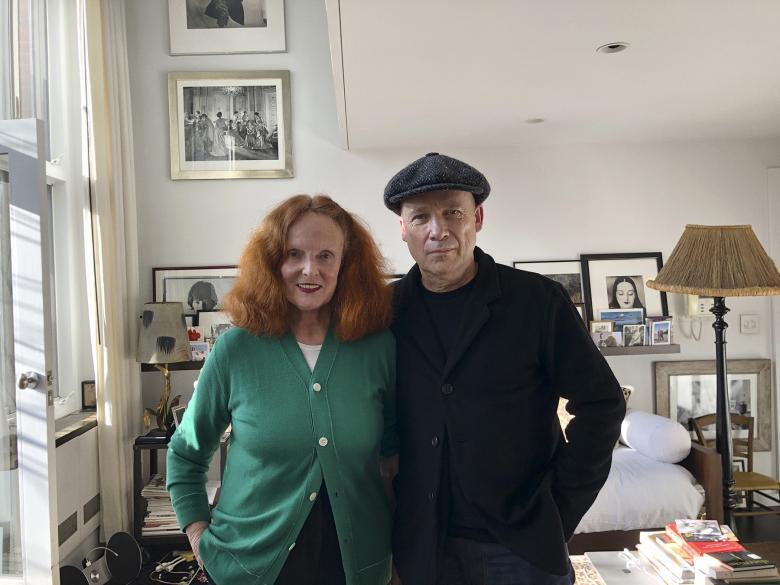 Grace Coddington and Perry Ogden, photographed at Coddington's home in New York after recording a podcast for the National Gallery of Ireland. Photo by Didier Malige.
Credit
Our podcast programme is specifically designed to support in-depth engagement with our exhibitions, while taking them far beyond the Gallery walls.
This podcast series is inspired by two temporary exhibitions of photography at the Gallery: Moment in Time:  A Legacy of Photographs | Works from the Bank of America Collection, which presented iconic photographs from Henri Cartier-Bresson, Robert Frank, Dorothea Lange, and many more, and View of Ireland: Collecting Photography, which presented a selection of works from the Gallery's growing photography collection, with works by national and international photographers including Amelia Stein, Eamonn Doyle and Inge Morath. Both exhibitions demonstrated the magic of this art form, and included a variety of techniques, processes and prints. 
Each episode is hosted by Sinéad Rice, Head of Education, with experts discussing key topics, sharing stories, and giving compelling accounts which take art past the visual and into the imaginative.
Note for listeners: Due to new e-privacy measures on our site, you'll need to click on the cookie symbol in the bottom-left corner of this page and tick the boxes to accept statistics and marketing cookies in order to listen to the podcasts embedded on this page. Alternatively, you can follow the links to listen on Soundcloud, iTunes, Spotify, or Stitcher instead.
EPISODE ONE | Moments in Time: Miriam O'Callaghan in conversation with Eric Luke
In this first episode, award-winning photographer Eric Luke and broadcaster Miriam O'Callaghan focus on photography recording life as it happens, taking us on a Journey through key moments in time inspired by Luke's captivating images. This episode was recorded with a live audience at the Gallery in January 2020.
If you'd like to see the photographs discussed in the talk, you'll find them here.
Listen back on Soundcloud below, or on  iTunes  |  Spotify | Stitcher
EPISODE TWO | Medium, Magic and Materiality: David and Edwin Davison in conversation 
David Davison and Edwin Davison of long-standing company Davison & Associates are specialists in photographic conservation. For this podcast, the father and son will share stories from the fascinating careers, explain the magic of pre-digital processes and reveal some remarkable moments in the history of Irish photography.
Listen back on Soundcloud below, or on  iTunes  |  Spotify | Stitcher
EPISODE THREE | Art and Alchemy: Perry Ogden in conversation with Grace Coddington
In the final episode, renowned photographer and filmmaker Perry Ogden meets the legendary creative-director-at-large of American Vogue magazine, Grace Coddington, to discuss the magic of photography and the role it has played in Grace's life: from her days as a model in late-50s London, to her role as a fashion editor at British Vogue and then creative director of American Vogue. Grace has collaborated with many of the great fashion and portrait photographers of the last sixty years, including Norman Parkinson, Helmut Newton, Guy Bourdin, Bruce Weber, Annie Leibovitz, Peter Lindbergh and Steven Meisel, creating images for Vogue—some of which now sell at auction for high prices. This episode was recorded on location at Grace's apartment in New York in January 2020. 
Listen back on Soundcloud below, or on  iTunes  |  Spotify | Stitcher
Recorded talks 
While our illustrated Sunday lecture series is not designed specifically for audio recording, we are ever mindful that that everyone can access these Dublin-based events. Therefore wherever possible we record these talks and make them available online.
LISTEN BACK TO OUR LIVE RECORDINGS ON SoundCloud
Moment in Time is made possible through the Bank of America Art in our Communities® program.