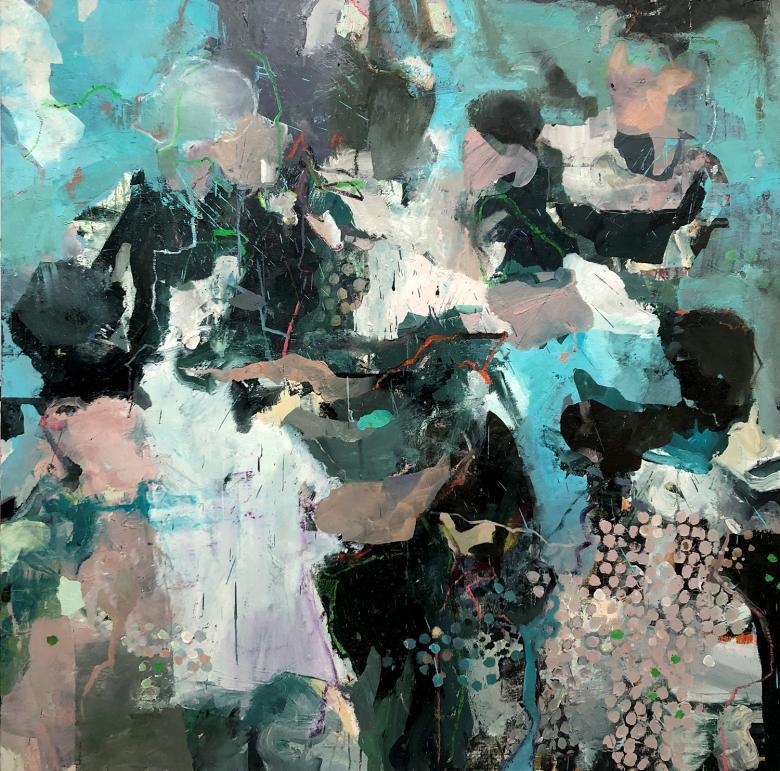 Cian McLoughlin, Crowd 1, 2020. Oil on canvas. © Cian McLoughlin
Credit
25 July - 30 September 2020
Millennium Wing Studio | Free entry
For over 150 years, artists have found inspiration and support at the National Gallery of Ireland. This summer, the Gallery celebrated work created by three contemporary Irish artists in lockdown in Lace, Paint, Hair. The exhibition featured handmade lace by Fiona Harrington, oil paintings by Cian McLoughlin and a series of mixed media artworks by Eimear Murphy.
While the Gallery was closed for over 100 days earlier this year, conversations with artists continued. Fiona Harrington, Cian McLoughlin and Eimear Murphy each have an established and unique relationship with the National Gallery of Ireland: all three artists have made significant contributions to its public programme in recent years.
From Fiona Harrington's masterful needlework to Cian McLoughlin's pulsating 'Crowd' canvases and Eimear Murphy's innovative fusion of traditional techniques with unusual media, this exhibition celebrated the inexorable art of making, and the makers of art in Ireland today.
Curator | Sinéad K. Rice
This exhibition is supported by Maples Group.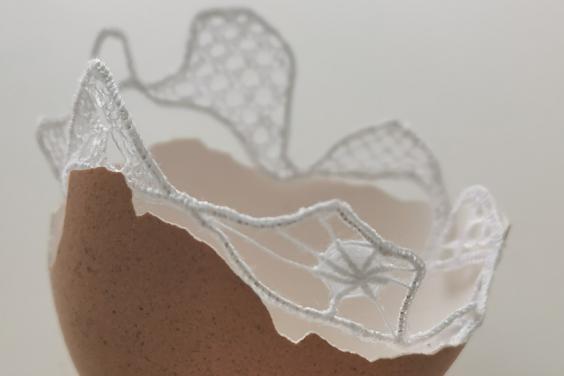 Fiona Harrington, Fragile Economies, 2020. (detail)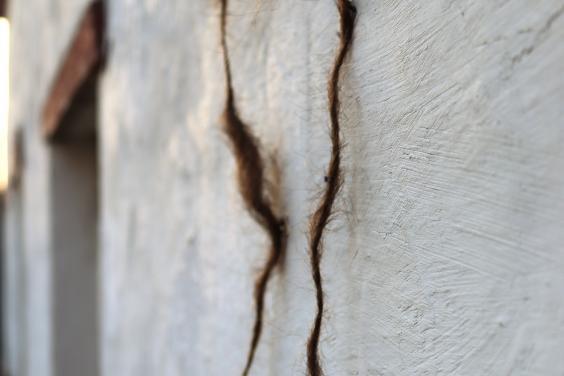 Eimear Murphy, Hair Correspondence, 2020. (detail)
Artist biographies and statements

(l-r) Fiona Harrington; Cian McLoughlin; Eimear Murphy
Credit
Fiona Harrington is a visual artist who works with handmade lace. She studied fine art, textile design and lacemaking, and has been the recipient of the Thomas Dammann Bursary, RDS Graduate Prize, National Craft Award, Eleanor De La Branchardiere Prize, Traditional Lacemakers of Ireland Award, and a Per Cent for Art commission. She has exhibited and travelled extensively to give talks and demonstrations on Irish lace, at, amongst others, the Textile Arts Centre, New York, 2018 and the Straight Out of Ireland exhibition, Pennsylvania, 2019. Fiona was recently selected as curator of A Space Between, an international Lace exhibition which is part of initiatives celebrating Galway as European Capital of Culture 2020.
Artist's statement: "My current research explores the economic and social value of the Irish lace industry, the country's second largest industry at the turn of the twentieth century. Made by the poor and worn by the rich, harrowing stories are told of women working long hours in poor conditions, often paid for their labour with tea and shoes. However, uplifting accounts also transpire, of women who bought farms and educated their children using their lace earnings. I want to acknowledge and respond to the significant contribution that lacemaking made to the female labour movement, and create a dialogue between traditional craft practice and contemporary art aesthetic. 
Fragile Economies considers how domestic activity often led to successful female enterprise. Like lace, poultry keeping was once a stable source of income for women seeking financial independence. Production Line pays homage to the countless women who would work months to produce a single garment. To echo this traditional purpose of producing 'functional lace', this piece, when complete, will be used in a hand tying ceremony at my own wedding, postponed due to restrictions relating to the pandemic." 
Cian McLoughlin is a Dublin-based artist. To date, Cian's work has been the subject of five solo shows in Dublin, and one in New York with the Cacciola Gallery. He has featured in many group exhibitions, notably at the National Gallery of Ireland, the National Portrait Gallery in London, and in the RHA Annual Exhibition, where he won the Caracciolo Gold Medal in 2013 and exhibited as an invited artist in 2016. Cian's most recent solo show was Tronies at the Molesworth Gallery in 2017. In 2019 the National Gallery of Ireland purchased a self-portrait from this series for its permanent collection.
Artist's statement: "My current work addresses the subject of crowd behaviour and the phenomenon of herd mentality. Throughout history and across cultures, this behaviour has acted as a means by which we make sense of the world and understand our relation to others. The crowd can be seen as a metaphor for loss of self, impart a feeling of belonging, and even provide an arena for the expression of our strongest emotions.
The paintings exhibited here concentrate on the specific moment in the life cycle of a crowd in which it has reached the point of maximum escalation. Physical contact, pressure, compression and anonymity come together as commonality emerges from the group. This experience, at its most intense, challenges the very boundaries of selfhood. The study of crowds has both fascinated and confounded me with the complexity of its moving parts for some years now. The arrival of Covid-19 and the new 'normal' has introduced even more variables to how we interact and I plan to address these as this series progresses."
Eimear Murphy graduated from The National College of Art and Design in 2015, and was awarded the Fire Station Artists' Studios Graduate Residency and a landmark sculpture commission from Dublin Port that same year. The resulting permanent public artwork 'Drop' was unveiled in 2017. In 2018 Eimear received the Arts Council's prestigious Next Generation Award and presented her first solo exhibition, 'SHAPE HEAP, thing' in Droichead Arts Centre. Forthcoming exhibitions include the 190th RHA Annual Exhibition as an invited artist (October 2020) and 'Less Stress More Success', Kilkenny Arts Office Gallery (September 2020). Several of Eimear's works are held in the collection of the OPW.
Artist's statement: "My work investigates the properties of everyday or 'non-traditional art materials'. My most recent works, exhibited here, explore how materials connect us to the past, the future and each other. In the drawing, rock and concrete are suspended in a fictional moment. The cast concrete tablets, combine the disruption of everyday materials with archaeological ideas of isolating artefacts. 
During lockdown I was prevented from accessing my studio, but presented with the opportunity to consider other resources. Historically, animal hair was used as a raw component in traditional construction techniques such as horse hair and plaster. More recently, with social distancing measures preventing access to hairdressers, 'home cuts' became the norm. Intrigued by the possibilities, I began 'Hair Correspondence' with a call out on social media for hair clippings. Over 60 contributors sent hair via post which was combined, hand spun, and transformed into raw material for relief drawing."