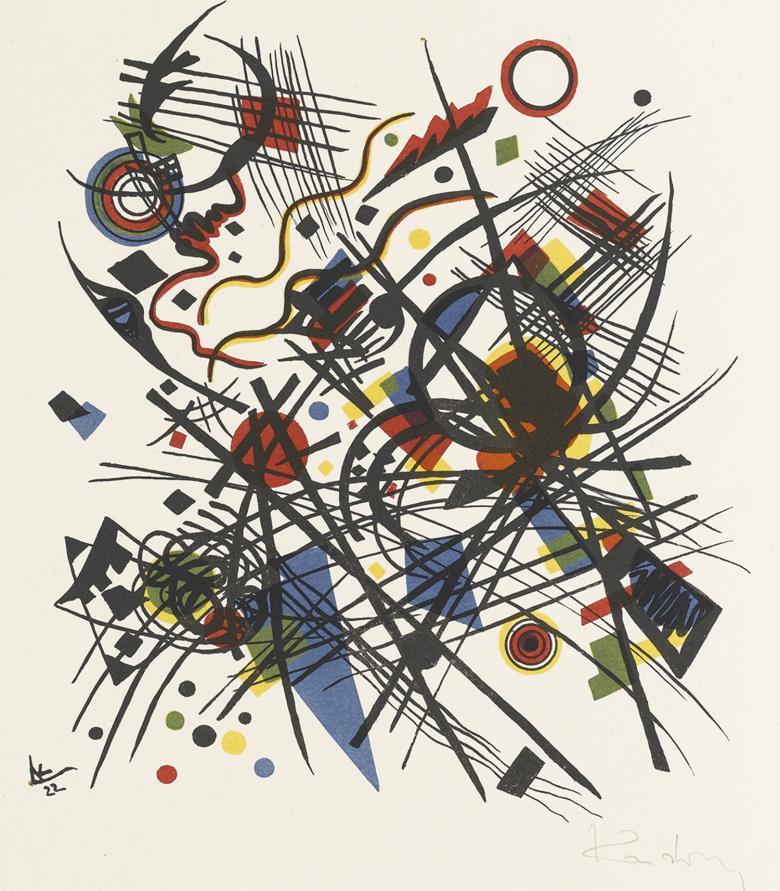 Wassily Kandinsky (1866–1944), Composition, 1922. From the portfolio New European Graphics, Portfolio IV: Italian and Russian Artists. Image: Courtesy of Staatsgalerie Stuttgart, Graphische Sammlung. Photo: © Staatsgalerie Stuttgart


Credit
20 July – 1 December 2019
Print Gallery | Admission free 
To celebrate the 100th anniversary of the founding of the Bauhaus, the Gallery borrowed a complete set of four Bauhaus portfolios of prints from the Staatsgalerie in Stuttgart.
These significant portfolios, comprising 52 woodcuts, etchings, lithographs and linocuts, brought a seminal achievement in Germany to the attention of an Irish audience. Through the medium of print, this exhibition also provided us with an opportunity to showcase 45 renowned avant-garde artists including Lyonel Feininger, Paul Klee, Franz Marc, Max Beckmann, George Grosz, Ernst Ludwig Kirchner, Marc Chagall, Wassily Kandinsky, Umberto Boccioni, and Natalia Goncharova.
The motto of the Bauhaus was to 'Rethink the World' through art and design. The prints in this centenary exhibition, printed between 1922 and 1924 at the State Bauhaus in Weimar, explored the visionary European artists associated with the Bauhaus and provide an insight into the much larger Bauhaus phenomenon.
An exhibition in cooperation with the Staatsgalerie Stuttgart
Supported by the Friends of the National Gallery of Ireland. Become a member of the Friends today and enjoy exclusive benefits while supporting the Gallery.
Curator | Niamh MacNally