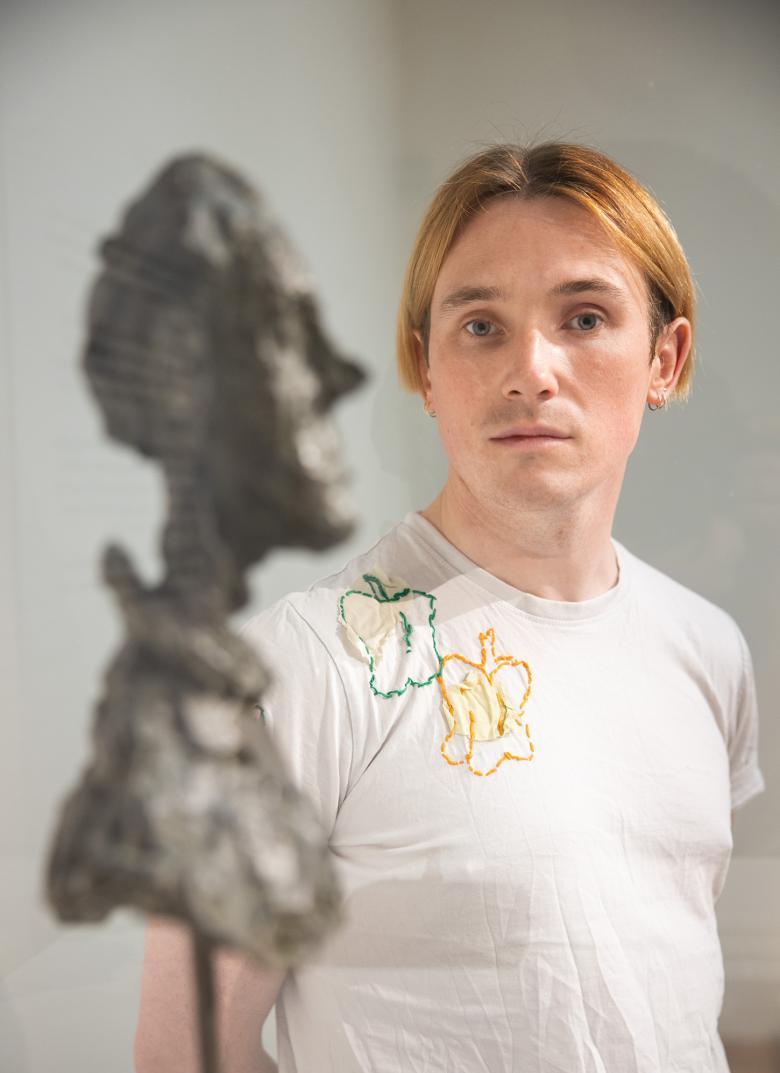 Richard Malone, pictured in the exhibition Giacometti: From Life. Photo by Naoise Culhane.
Credit
As part of the public programme for our summer exhibition Giacometti: From Life, Irish artist and fashion designer Richard Malone is our Artist in Residence.
For this in-depth project, Richard Malone will explore Giacometti: From Life and create a contemporary response to the artist's life and work. From 7 June until 31 July, he will be onsite in the Millennium Wing Studio directly opposite the exhibition space, and from 1 August to 4 September, the outcome of the residency will be displayed in this studio. 
Throughout June and July, Malone will host free drop-in sessions and talks for the public as well as smaller sessions for a diverse range of invited communities, individuals and groups, as he works on creating his response. 
About Richard Malone:
Richard Malone is an Irish artist and designer from Wexford. His artistic practice seeks to explore human truths and performed falsities, experimenting with exaggerated forms and sculptural works that seek to be animated or engaged with. His practice includes garment making, drawing, writing, textiles, weaving and performance, often crossing the borders of rigidly defined artistic outputs. Malone is interested in the overlaps of contemporary society with the ancient - ritualistic practices that are informed by a collective consciousness. His work often explores the idea of the 'ether', a transient place of creativity or reaction that cannot be defined. More recently his work has explored the limitations and possibilities of language and symbolism, as well as the idea of multiple truths existing within one object or identity - including gender, sexuality, motion, sound and personal or collective histories. Malone's work as a fashion and textile designer has won numerous accolades including The International Woolmark Prize, British Fashion Council Fashion Trust and NEWGEN awards, and been twice nominated for the LVMH Prize. His work is held in some of the world's most important collections, including the Museum of Modern Art (MoMA) New York, The Victoria and Albert Museum London and the National Gallery of Victoria in Melbourne.
Public Programme:
As part of the free public programme of events during this residency, there will be a series of open, drop-in sessions in the Millennium Wing Studio which will provide visitors with the opportunity to meet with Richard Malone, learn about the project and chat with him about his ideas and techniques. We will also be hosting two in-depth talks - places for these are limited, so must be booked in advance. Find out more about these free events in our What's on calendar, and below. 
Community Programme: 
We're delighted to collaborate with some of our community partners during this project including Catherine McAuley National School, the Irish Sign Language Community, Community Sewing Groups via Galway and Roscommon Education & Training Board, the Apollo Project, Youth Networks & Forums and Dementia Support Groups. Through collaboration with these groups, highly tailored activities and events will take place throughout June and July supporting diverse, equitable, accessible and inclusive engagement with Giacometti: From Life and the Artist Residency
Location:
All activity will happen in our Millennium Wing Studio. We are committed to running accessible, inclusive events and activities and making our programme as welcoming as possible. The Millennium Wing Studio is wheelchair accessible and the education team will be on-hand to assist and support exhibition visitors and programme participants.
Giacometti: From Life continues until 4 September. It is co-organised by the National Gallery of Ireland and the Fondation Giacometti.
Arthaus Hotel is the Giacometti Artist Residency Accommodation Partner.


Artist in Residence events