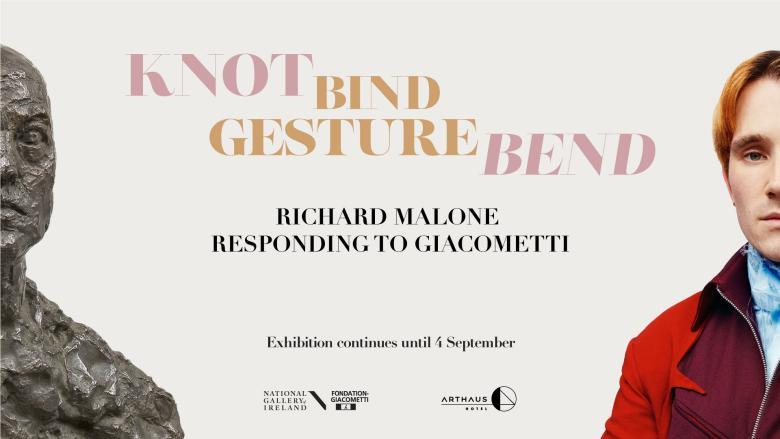 Poster features detail of Alberto Giacometti, Buste d'homme (Lotar II), c. 1964-1965. © Succession Alberto Giacometti / ADAGP, Paris, 2022.
Credit
Richard Malone responding to Giacometti
4 August – 4 September 2022
Millennium Wing Studio | Free admission. No booking required.
Knot Bind Gesture Bend is an exhibition of new work by Irish artist and designer Richard Malone. Opening in the National Gallery of Ireland's Education Studio on 4 August 2022, this is Malone's contemporary response to the Gallery's summer show Giacometti: From Life.
Since June, the Wexford-born artist has been in residence at the Gallery, exploring Giacometti's work and related material in the Gallery's library and archive. The resulting installation presents artistic work centring ideas of queerness, class, place, and otherness, as Malone explores the limitations of language, gesture and symbolism in constructing meaning and identity.
Mimetic forms created from techniques such as knotting, binding, weaving, building and mark-making, in materials such as silk, clay, foam, wire, paint and steel, fill the space and the studio is transformed.
Programme of events
From 4 August 2022 to 4 September 2022, a full learning and engagement programme will support the exhibition with staff onsite throughout. Visitors of all ages and abilities can learn about Malone's practice, concepts and techniques in both practical and discursive sessions. Explore the full events programme here. 
Exhibition hours
Monday: 12pm-4pm
Tuesday: 10am-4pm
Wednesday: 10am-4pm
Thursday: 10am-7pm
Friday: 10am-4pm
Saturday: 11.30am-3.30pm
Sunday: 12pm-4pm
Artist's statement
On Knot Bind Gesture Bend, artist Richard Malone says: 
"It is the culmination of the residency. Centering ideas of queerness, class, place and otherness - I explore the limitations of language, gesture and symbolism in constructing meaning and identity. My research creates direct links between contemporary language and the ancient pre-colonial vernacular of Irish that accepts a multitude of truths for a single word, phrase, feeling or object. Here vocabulary, objects and the human spirit are ever changing; transient. Each carries a series of multiple possibilities, altering as they move through time and constantly connected to the ether, or other world - never settling on a given definition. My practice examines ancient, often gendered labor practices and fabrications that were formative in their upbringing. From the domestic by stitch, fabric, embroidery or weave to the industrial through function, steel, wire, foam and rope. Observations on protective feminine spaces and gender performance permeate the space. Each method is manipulated with durational, repetitive and time consuming techniques that echo Giacometti's laborious method. Form and materiality are centered and celebrated, creating a new ephemeral language that plays with our understanding of both mimetic and semantic form. Hand woven sculptures appear bulbous, rendered in insulation foam however on closer inspection resemble traditional embroidered knotting techniques. Jersey is stitched onto sculpted metal, richly draped to appear alive, constantly moving. The skeleton of each piece is highlighted, exposed in order to demystify technique. Every piece captures gesture, motion. Imagined forms are repeated throughout the space, constantly revising themselves or appearing in an altered state, owing to a new, imagined and ever changing language."
About Richard Malone's residency in the Gallery
Read more about Malone's time in the Gallery, exploring the Giacometti exhibition as well as archival material.
Giacometti: From Life continues until 4 September. It is co-organised by the National Gallery of Ireland and the Fondation Giacometti.
Arthaus Hotel is the Giacometti Artist Residency Accommodation Partner.