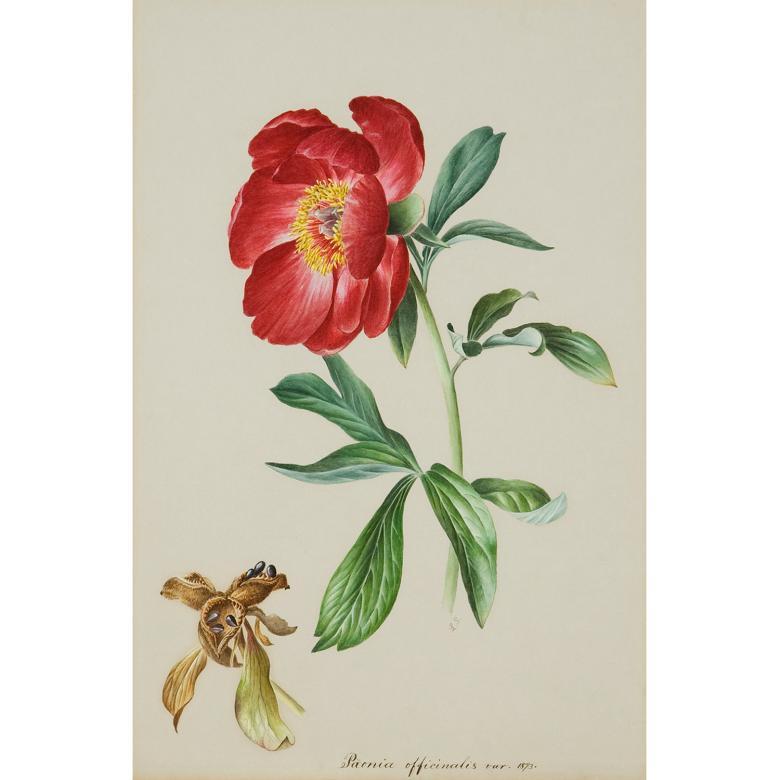 Courtesy of the National Botanic Gardens, Glasnevin
Credit
Lydia Shackleton (1828-1914)
Paeonia officinalis, 1873
Watercolour on paper
Courtesy of National Botanic Gardens, Glasnevin
Lydia Shackleton studied at Dublin Metropolitan School of Art before establishing a Quaker school in Lucan. In 1884, she became the first artist-in-residence at the National Botanic Gardens, Glasnevin. Over the next twenty years she made portraits of orchids, native wild plants, and herbaceous  peonies. This painting depicts the common peony.
Lydia Shackleton (1828-1914)
Darlingtonia californica, 1886
Watercolour on paper
Courtesy of National Botanic Gardens, Glasnevin
Shackleton made plant studies on tinted paper and used white gouache to add highlights. Darlingtonia californica is also known as the cobra lily because of its resemblance to the hooded head of a rearing cobra. It is a carnivorous plant native to Northern California and Oregon. Shackleton travelled to the United States several times and made many sketches of the exotic plants she encountered.