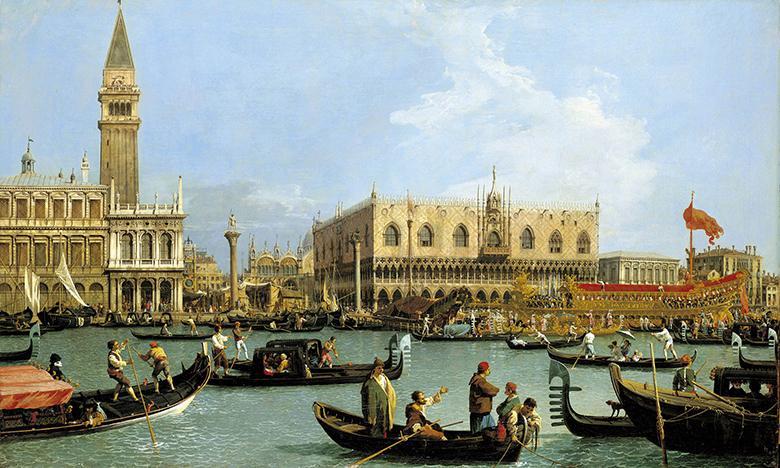 Canaletto (1697-1768), 'The Bacino of San Marco on Ascension Day', c.1733.
Royal Collection Trust / © Her Majesty Queen Elizabeth II 2018
Credit
The beautiful new exhibition, Canaletto and the Art of Venice, is now open
BOOK YOUR TICKET HERE
5 December 2018–24 March 2019 | Beit Wing
This loan exhibition presents a selection of the finest eighteenth-century Venetian works from the UK's Royal Collection. Paintings, drawings and prints by Canaletto will be shown alongside groups of paintings and drawings by his contemporaries, including Sebastiano and Marco Ricci, Francesco Zuccarelli, and Giovanni Battista Piazzetta. Most of these works were acquired by George III directly from Joseph Smith, British Consul in Venice, who was a passionate collector, dealer and supporter of Venetian artists and Canaletto's most enthusiastic patron. As well as offering superb examples of eighteenth-century Venetian art, the exhibition gives a fascinating insight into the social circles and artistic networks of the period. The exhibition will be complemented by two publications: a full-length 400-page hardback catalogue and a mini-booklet featuring selected highlights.
Curator: Anne Hodge, National Gallery of Ireland

Canaletto \ Education, learning and engagement programme
Delve deeper into the art of eighteenth-century Venice with our programme of education events.