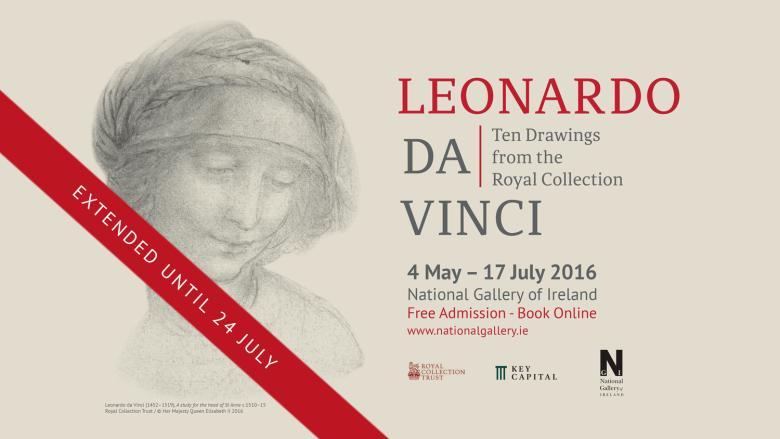 Photo © National Gallery of Ireland
Credit
Leonardo da Vinci: Ten Drawings from the Royal Collection
4 May – 17 July 2016
Beit Wing, Rooms 6–8 | Admission free
The National Gallery in Dublin was the only Irish venue for this touring exhibition, organised by Royal Collection Trust, comprising ten of the finest drawings by Leonardo da Vinci (1452–1519), on loan from the Royal Collection.
These drawings by Leonardo were selected to show the extraordinary scope of the artist's interests, from painting and sculpture to engineering, zoology, botany, mapmaking and anatomy. His skilful use of different media—pen and ink, red and black chalks, watercolour and metalpoint—was well represented.
Through drawing, Leonardo attempted to record and understand the world around him. He maintained that an image transmitted knowledge more accurately and concisely than any words. Nonetheless, many of his drawings are extensively annotated, including the sheet of studies for casting the equestrian monument to Francesco Sforza (c.1492–1494), and the double-sided page from a notebook of anatomical studies:The heart compared to a seed and The vessels of the liver, spleen and kidneys (c.1508).
Leonardo was left-handed and throughout his life he wrote in perfect mirror-image, from right to left. Rather than an attempt to keep his investigations secret, as has been claimed, this was probably a childhood trick that he never abandoned.
The National Gallery of Ireland was one of 4 venues across the UK and Ireland to receive this wonderful exhibition of ten drawings by Leonardo da Vinci from the Royal Collection. 
Curator | Anne Hodge, National Gallery of Ireland
Supported by Key Capital