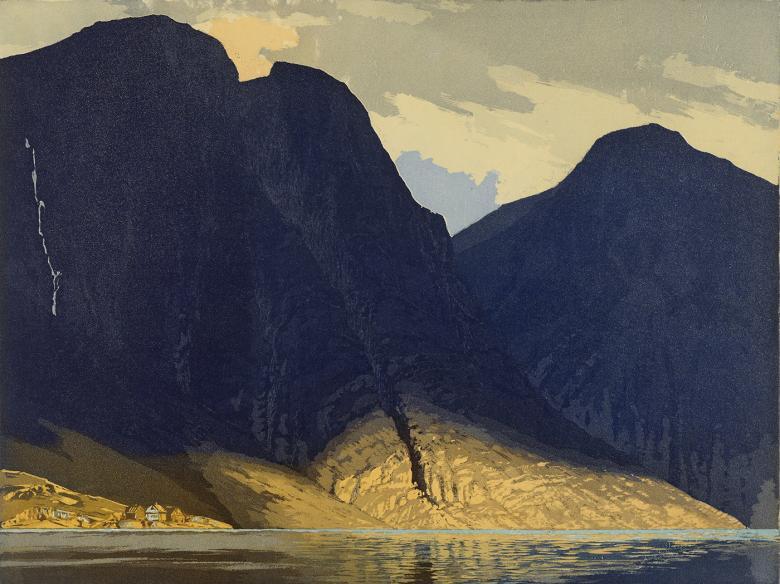 Edward L. Lawrenson, Sognefjord, 1924 - detail. The British Museum: © The Trustees of the British Museum.
Credit
2 March – 30 June 2019
Print Gallery | Free admission
This exhibition introduced audiences to the work of early modern painter-etchers of Irish birth or heritage. These artists made a significant contribution to the so-called Etching Revival of the 1880s, earning the recognition of their peers and contemporary art critics. Key works by Robert Goff, Edward Millington Synge, Percy Gethin, Roderic O'Conor, William Booth Pearsall, Estella Solomons, and Stella Steyn were included. The etchings of Irish artists were shown alongside examples by Whistler, Séguin and other Etching Revival printmakers who had a direct influence on their work.
An illustrated catalogue presents new research on this all-but-forgotten aspect of Irish art, addressing the motivations and challenges faced by Irish printmakers within the context of the Etching Revival and contemporary Irish art.
The exhibition featured material from the National Gallery of Ireland, Dublin City Gallery The Hugh Lane, the National Library of Ireland, Trinity College Dublin and Crawford Art Gallery, Cork as well as prints from the British Museum and the University of Glasgow: The Hunterian.
Curators | Dr Angela Griffith, Trinity College Dublin, and Anne Hodge, National Gallery of Ireland
Graphic Studio Gallery (located in Temple Bar) held an exhibition which was a response to Making their Mark. The New State; contemporary etching in Ireland (15 March - 6 April 2019) showcased new Irish etching. While etching has been valued historically as an artistic process, many contemporary artists continue to express themselves in the medium, whilst allowing for evolving technological developments. This exhibition consisted of previously unseen works by early career printmakers from across the country. In addition, the artists undertook the challenge to work to a minimum size, with rewarding results. Their prints represent a dialogue across time - they are respectful of tradition yet are assured of their own modes of expression, through their innovative approaches in terms of technique, concept, presentation and artistry.