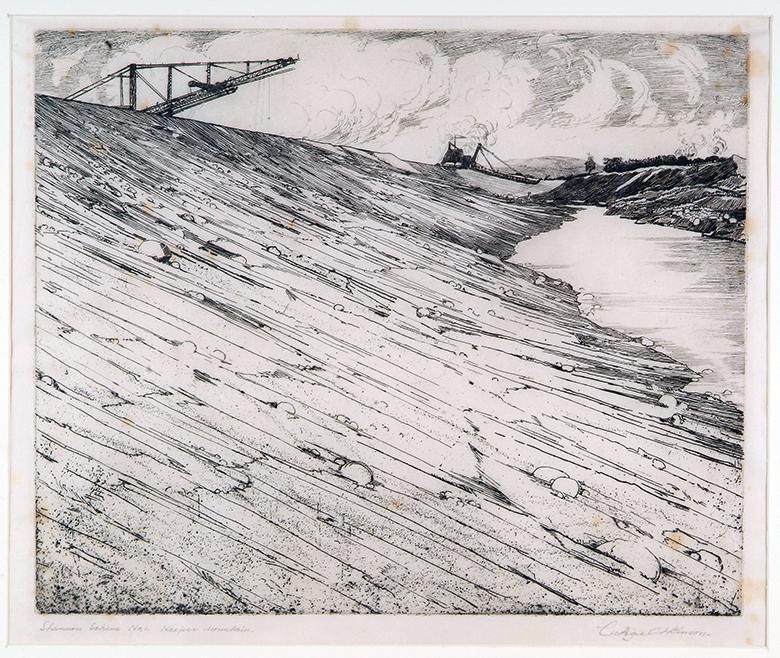 George Atkinson (1880-1941), 'Shannon Scheme No. 1 Keeper Mountain'. Collection of the Crawford Art Gallery, Cork.
Credit
Curious about our exhibition Making their Mark: Irish Painter-Etchers and the Etching Revival (2 March – 30 June 2019)? Here are five quick facts to know before you visit:
1. Who were the Irish painter-etchers?
A group of artists who created original, fine art prints. This exhibition focuses on the work they produced between 1880 and 1930.
2. Were they the first artists to do this?
No. Artists over the centuries, including Rembrandt and Dürer, created original prints. However, for the most part, printmaking was seen in commercial terms, as a way to copy and publish existing artworks as prints or in illustrated books.
3. So, what changed?
The Etching Revival, an artist-led movement that began in France in the mid-1800s but spread, attempted to restore the reputation of prints as a creative medium. Significant artists connected to the movement include Henri Toulouse-Lautrec and James Abbot McNeill Whistler. Whistler, in particular, greatly influenced the Irish printmakers.
4. Do I know any of the artists included in the exhibition?
Some of the artists may be familiar—Roderic O'Conor, Estella Solomons and John Lavery, for example. But, others may be new to visitors, including Myra Hughes, George Atkinson and Percy Gethin. This is because Irish artists working in print at that time were generally not appreciated (with rare exceptions) until the mid-20th century. 
5. So the exhibition just covers Irish artists?
No. The etchings of Irish artists are shown alongside examples by Whistler, Walter Sickert and other Etching Revivalists, revealing the influence they had on the Irish printmakers.
_________________________________________________________________
Making their Mark: Irish Painter-Etchers and the Etching Revival was on view 2 March – 30 June 2019.