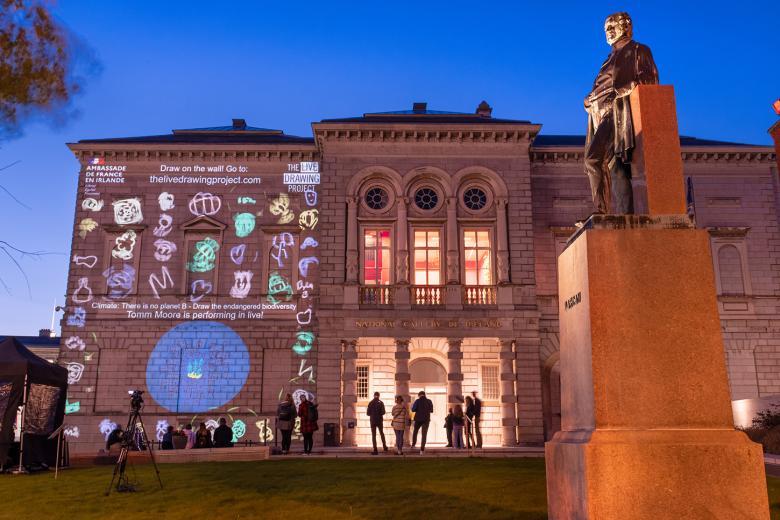 Special installation in association with the French Embassy in Ireland.
The National Gallery of Ireland and the French Embassy in Ireland come together once again to invite members of the public to take part in an interactive drawing session on Culture Night, Friday 17 September 2021. A free online and outdoor event, The Live Drawing Project: Ireland and France begins at 8pm on the walls of the Gallery at Merrion Square. 
In this digital journey across Ireland and France, audiences of all ages are invited to create drawings using their phone or tablet as a drawing pad. Drawings can be created via a link to be announced on the day. The drawings will be projected onto the exterior of the National Gallery of Ireland at Merrion Square West, Dublin, and simultaneously be screened at Ireland's cultural flagship in Paris, the Centre Culturel Irlandais. The creations will also be available for all to view on Facebook Live.
While drawing on various themes, this event will also be an occasion to celebrate Europe and what it means to be European as we invite the audience to share their experiences of belonging to Europe by drawing.
The Live Drawing Project: Ireland and France features a number of well-known Irish and international artists. Artists participating in this year's event, in order of appearance are: 
Cecilia Danell (Centre Culturel Irlandais – online): Swedish-born, Galway-based artist Cecilia Danell works with painting, film and installation. Through her work, Cecilia explores ideas about wilderness and solitude and how the yearning for an authentic life may be no more than a construct. 
Eamon O'Kane (Centre Culturel Irlandais – online): Originally from Belfast, visual artist Eamon lives and works in Denmark. Describing himself as a process-based artist, Eamon uses the interchange of media to influence the direction of his work.
Tomm Moore (Ireland): Tomm is co-founder of the four-time Oscar-nominated studio Cartoon Saloon whose first feature film The Secret of Kells has become an Irish classic.
Pierre Coffin (France): Animator and film director Pierre Coffin trained at the Gobelins school of animation in Paris. In 2010 he completed, with Chris Renaud, the animated feature film Despicable Me for Universal. Since then, he has directed Despicable Me 2 (2013), Minions (2015), and Despicable Me 3. Today Despicable Me is the highest grossing animated film franchise of all time. 
Manyoly (France): Manyoly is a self-taught French painter and street artist based in Marseilles. Passionate about women, Manyoly depicts female portraits as a way of capturing their energy and expression. 
Holly Pereira (Ireland): Holly is an illustrator and muralist based in Dublin, Ireland. Her creative style could be described as colourful, fun and bold. Her lively work also celebrates her love of typography and language. 
Fuchsia Macaree (Ireland): Since graduating with an MA in Illustration in 2012, Fuchsia's work has been exhibited and published worldwide. In 2018, Fuchsia illustrated the bestselling and award winning Great Irish Weather Book. Fuchsia's most recent solo exhibition was showcased in contemporary gallery Hang Tough in Dublin earlier this year.
The Live Drawing Project is part of the European Cultural Trail, an initiative by EUNIC Ireland (European Union National Institutes for Culture) in cooperation with the European Commission Representation in Ireland for Culture Night 2021. The European Culture Trail takes place both onsite and online. Participants include Alliance Française Dublin, Austrian Embassy, Goethe-Institut, Instituto Cervantes, Istituto Italiano di Cultura, European Commission Representation in Ireland, French Embassy and the National Gallery of Ireland.
French Ambassador to Ireland Vincent Guérend said, "As Ireland and France's relations are getting even stronger, culture has a key role to play. Culture Night provides a wonderful opportunity to connect, interact, release your imagination and curiosity. The French Embassy is delighted to partner with the National Gallery of Ireland and the Centre Culturel Irlandais in Paris to share with everyone "The Live Drawing Project", a fun interactive real-time digital journey bringing Ireland and France even closer. We are also delighted to be part of the European Culture Trail showcasing the diversity of European language and culture. Wherever you are, join us and let's create and celebrate Europe together!"
On Culture Night, the Gallery will also be open late with an exciting selection of exhibitions, including landmark exhibition Jack B. Yeats: Painting & Memory, and new photography exhibition Picturing People. Jack B. Yeats: Painting & Memory will be free to visit from 5pm. 
For those who can't make it in person, a range of special online Culture Night activities include: family workshops; virtual Through a Lens tour 'Costumes & Art'; and 'Mondrian & Music', the latest in jazz singer Emilie Conway's exploration of the great Dutch artist's musical world. Those at home can participate in the Live Drawing Project throughout the evening.
The Gallery's outdoor pop-up café, Le Béret, will be open on the night until 10pm. The Gallery Shop will be also open until 8.30pm. The Gallery will be free to enter all day. Frederic William Burton's popular watercolour Hellelil and Hildebrand, the Meeting on the Turret Stairs will be on display from 6pm-8pm, for Culture Night.
Media contact:
Ciara Mooney, Communications, National Gallery of Ireland, [email protected] 
Schedule:
Notes to Editors:
Images available on request, email

[email protected]

Representatives of the National Gallery of Ireland and the French Embassy in Ireland are available for interview 
About the National Gallery of Ireland:
The National Gallery of Ireland is one of the country's most popular visitor attractions housing the nation's collection of European and Irish art from about 1300 to the present day, and an extensive Library & Archive. Entry to the collection is free for all to enjoy, learn and be inspired.