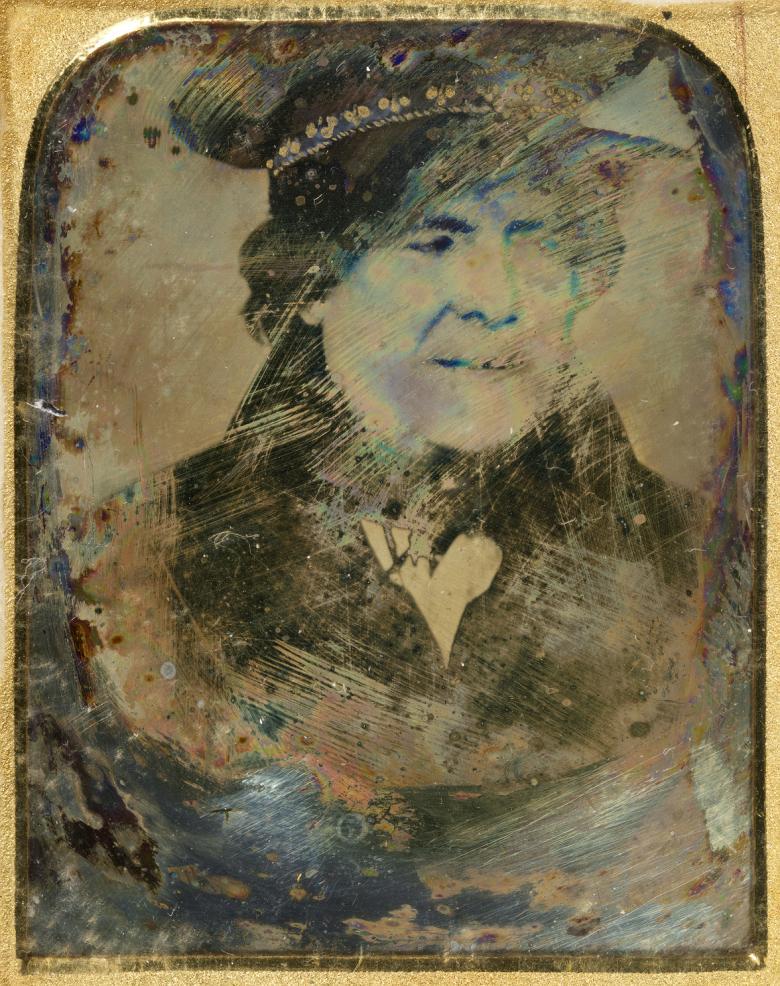 Alexander Doussin Dubreuil (fl. 1842-1845), Daniel O'Connell. Photo © National Gallery of Ireland
Credit
Upcoming display and news on recent acquisitions
The National Gallery of Ireland is delighted to present its first temporary photography display later this year. View of Ireland: Collecting Photography showcases works from the Gallery's growing photography collection and is set to open on 26 October 2019.
View of Ireland explores the history of photography in an Irish context, with works by Irish and international photographers including Erich Hartmann, Amelia Stein, Nevill Johnson, Eamonn Doyle, Inge Morath and Jane Bown.
Over the past 12 months, the National Gallery of Ireland has acquired over 100 photographs by Irish and international photographers, spanning from the 19th century to contemporary practice. The collection includes both vintage and modern prints and incorporates daguerreotypes, albumen prints, platinum and silver gelatin prints.
In 2018, the Gallery acquired a rare example of a vintage albumen print, dating back to the 1860s, by one of the forerunners of early photography, Julia Margaret Cameron. The distinctive work features Mary Ryan, an Irish woman who was taken in by Cameron when she was struggling to support herself in England. Today, there are only a handful of extant prints of Ryan by Cameron. This acquisition set the tone for the calibre of photographic prints that would be added to the Gallery's collection over the next year, including a portrait of James Joyce by one the 20th century's most influential artists, Man Ray. The press shot of Joyce was taken in Paris in 1922 ahead of the publication of Ulysses two months later.
Photographers have long been inspired by Irish literature when photographing in Ireland. Irish photographer Edward Quinn set himself the task of capturing the atmosphere of a city both he and Joyce were familiar with while on a visit to Dublin in 1963. He created a photobook, James Joyce's Dublin, in which photographs are accompanied by excerpts from Joyce's work.
The work of contemporary Irish photographers including Amelia Stein has also been acquired by the Gallery. Photographs by Stein featured in recent exhibition Shaping Ireland and will be part of View of Ireland, alongside the work of other contemporary Irish artists such as Eamonn Doyle and Tom Wood.
Also acquired by the Gallery, and featuring in the exhibition, is Dublin-based photographer Dragana Jurisic's Tarantula. This work was created in response to the Gallery's Vermeer and Masters of Genre Painting exhibition in 2017. Jurisic predominantly works in the medium of documentary photography, and her work often focuses on the notion of exile and its subsequent effect on memory and identity.
Glassilaun Snow Peak, a photograph by one of Ireland's best-known and pioneering artists, Dorothy Cross, was acquired by the Gallery earlier this year, and featured in Shaping Ireland. Specialising in sculpture, film and photography, a sense of place and a connection with nature and the corporeal pervade Cross' work.
There are some surprises in the Gallery's photography collection, including a series of works by Nevill Johnson. Johnson moved around Dublin with a Leica camera in the 1950s with fellow artist and friend Anne Yeats.
The Gallery's inaugural photography exhibition celebrates its ongoing acquisitions, giving visitors the opportunity to learn more about the history of photography and a new age of collecting. View of Ireland: Collecting Photography opens on 26 October 2019.
Listing:
View of Ireland: Collecting Photography
Room 31, National Gallery of Ireland
26 October 2019 – 2 February 2020
Free admission