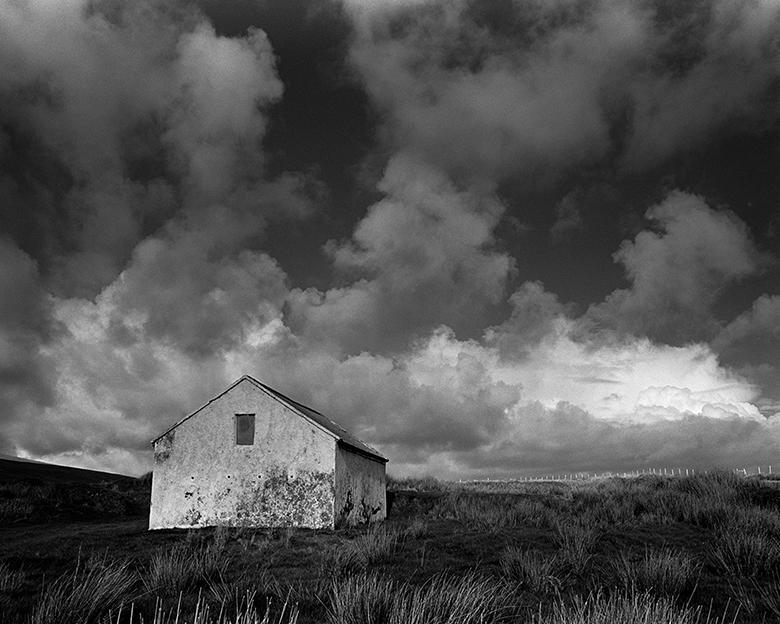 Amelia Stein (b.1958), The Big Sky: " White Stable", 2012. © Amelia Stein, RHA
Credit
Shaping Ireland: Landscapes in Irish Art
13 April - 7 July 2019
Tickets €15 / €10 / €5
The National Gallery of Ireland brings Ireland's great outdoors inside for its new exhibition Shaping Ireland: Landscapes in Irish Art, which opens on Saturday, 13 April 2019. The group show presents 72 works created over more than 250 years, from artists working in a range of media, spanning painting, sculpture, photography and video. Artists on display include Paul Henry, Jack B. Yeats, George Barret, Dorothy Cross, Evie Hone, Willie Doherty, Niamh O'Malley and Seán Keating. 
Artworks were borrowed from other institutions and private collections, as well as from the Gallery's own preeminent collection of Irish art. All relate to locations on the island of Ireland and depict a degree of human intervention on the land, be that through agriculture, industry, habitation or recreation. The display is arranged according to different landscape types, namely: Mountains & Wetlands; Settlements & Territories; Fields & Pastures; Gardens & Parks; Industry & Infrastructure. 
From works like George Barret's View of Powerscourt Waterfall (1760) to Mairead O'hEocha's Railings and Graffiti at St Stephen's Green, Night (2018), Shaping Ireland brings together historical and contemporary works, demonstrating the diversity of approach among artists to the theme of landscape. In Niamh O'Malley's Nephin (2014), a black-and-white silent film shown on a loop, the viewer follows a car journey around Nephin Mountain. 
The exhibition is curated by Donal Maguire from the Gallery's ESB Centre for the Study of Irish Art. Commenting, he said: "For centuries, Irish art history has enjoyed a rich tradition of exploring landscape as a theme, one that continues earnestly into present day. Shaping Irelandcelebrates this tradition and represents a unique opportunity for visitors to the National Gallery of Ireland to see how artists have responded to Ireland's diverse landscape over two and a half centuries. 
"As well as demonstrating the beauty and diversity of our landscape, it is my hope that this exhibition will encourage visitors to consider our relationship with the land over time. While human activity has a constant and increasing impact on the landscape, altering the shape of the land. Through the lens of art history, Shaping Ireland offers visitors thought provoking perspectives on contemporary issues surrounding the environment, natural heritage and human impact on the natural world."
Director of the National Gallery of Ireland, Sean Rainbird added: "We are delighted to introduce such an innovative exhibition to the National Gallery. Shaping Ireland is not driven by an art historical narrative but, rather, timely ideas around human intervention with the land. I would encourage people to visit Shaping Ireland, not only to reflect on the beauty of Ireland's landscape but to better understand and appreciate our place within it."
The exhibition is accompanied by a catalogue featuring a collection of essays from 12 writers who offer their personal reflections on the Irish landscape. These include poet Paula Meehan, architect John Tuomey, broadcaster Ella McSweeney, film directors Cepa Giblin and John Murray, and environmentalist and broadcaster Duncan Stewart. 
Shaping Ireland opens at the National Gallery of Ireland on Saturday, 13 April 2019 and runs until Sunday, 7 July 2019. Tickets cost €15/€10/€5 and Friends of the National Gallery of Ireland and under-18s go free. A programme of events will complement the exhibition, spanning talks, tours, workshops, courses and more. Full details of the Education programme here
Notes to editors:
Shaping Ireland

 comprises 72 artworks by 50 artists, including 56 paintings, ten photographs, five sculptures and one film. Four works are from the 18th century, five are from the 19th century, 21 are from the 20th century and 20 are by living artists

Exhibition images are available on request

Works are on loan from private and public lenders, including the 

Arts Council

; 

mother's tankstation

; 

Kerlin Gallery

 and the 

Ulster Museum

, as well as the Gallery's own collection

Curator Donal Maguire is available for interview

Maxwell's will issue photocall images this afternoon