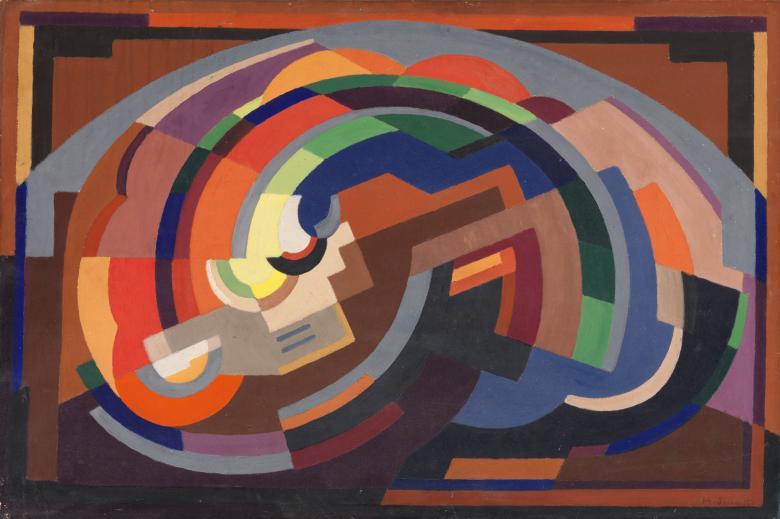 Mainie Jellett (1897-1944), A composition, 1930s. Image, National Gallery of Ireland.

Credit
Exclusive benefits and support of the national collection.
This Christmas, treat someone special to membership of the Friends of the National Gallery of Ireland. A gift membership supports the Gallery while joining a community of art lovers in receiving exclusive benefits. 
In 2022, a dynamic programme of events and activities for Friends runs alongside eleven new exhibitions – to which Friends receive unlimited free entry. As well as exclusive access to digital content, Friends gain access to 'Friends Fortnight', a two-week festival during the month of February.
Every purchase of gift membership supports the National Gallery of Ireland. Membership helps the Gallery to acquire new artworks to enrich the national collection. In 2020, contributions by Friends supported the acquisition of a portrait of Harry Clarke by Seán Keating, Thinking out Gobnait, as well as funding the special companion book to landmark exhibition Jack B. Yeats: Painting & Memory. 
Sinéad Morrin, Friends Manager at the National Gallery of Ireland, commented: "We are very grateful for the continued support of our Friends. Membership of Friends of the National Gallery of Ireland offers the chance to be part of something meaningful, enriching and exciting. We are delighted to be offering online events so that our members can continue to enjoy the benefits of membership from their homes. They will be able to explore a year of unmissable exhibitions for free, experience exclusive talks and events and enjoy special discounts whilst supporting the National Gallery of Ireland's work. Membership of the Friends is the perfect gift for any art lover, enabling them to stay connected to culture and creativity and to find solace and joy in art during this time. Giving the gift of membership this Christmas supports the Gallery and allows the opportunity to share the love of art with friends and family at home and abroad."
A Friends gift membership voucher can be purchased online or from the Gallery's Friends team. The purchaser will receive a unique voucher code, via email, which can then be sent to the gift recipient. The 12-month gift membership can be used within five years from purchase, and is valid for one year from date of activation. Membership begins when the recipient activates it by using the voucher code. This means that the gift membership starts when the recipient chooses, not on the date of purchase.
For more information on gifting membership, please visit www.nationalgallery.ie
Media contact:
Ciara Mooney, Communications, National Gallery of Ireland: [email protected]
Notes to Editor:
Images are available on request, email [email protected]
About the National Gallery of Ireland:
The National Gallery of Ireland is one of the country's most popular visitor attractions housing the nation's collection of European and Irish art from about 1300 to the present day, and an extensive Library & Archive. Entry to the collection is free for all to enjoy, learn and be inspired.
Membership benefits and discounts
Free unlimited entry to all ticketed exhibitions (pre-booking essential)
Live virtual events via ZOOM, sharing first knowledge and behind-the-scenes stories about Gallery exhibitions and projects
Exclusive access to digital content, including videos of art history talks and lecture series, shared via weekly email newsletters
Friends Fortnight: an annual two-week festival in February, celebrating our members, with exclusive daily events
10% discount in the Gallery Shop all year (15% Christmas shopping discount from 2 - 5 December 2021)
10% discount in the Gallery Café
10% discount on customised prints
20% discount on selected online Education events
Early bird booking for selected online events
A copy of the Gallery's new magazine, The Gallery
Pre-book exhibition tickets to avoid disappointment. See FAQs for further information. 
The Friends team can be contacted on: +353 (0) 1 661 9877 or [email protected]