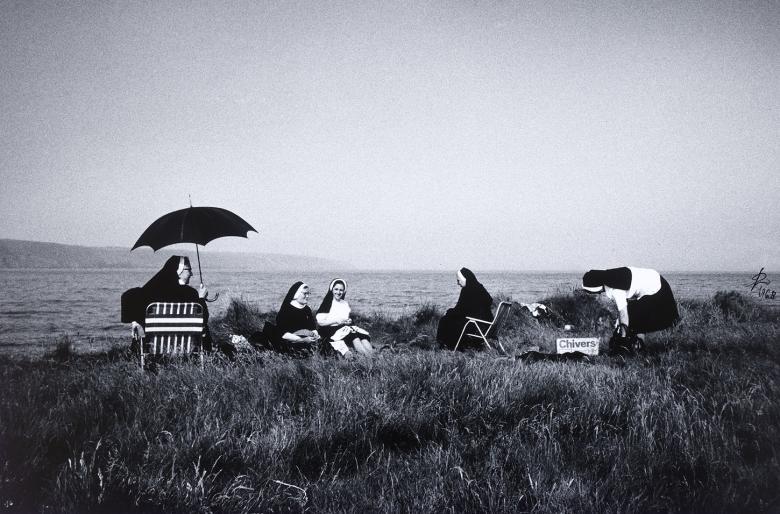 Lutz Dille, Ireland, West Coast, 1982. © The Estate of Lutz Dille / courtesy Stephen Bulger Gallery
Credit
Photographs celebrating humanity on display in Picturing People.
From O'Connell Bridge to Croagh Patrick, photographs of life in Ireland and around the world are on display in the National Gallery of Ireland's new free exhibition Picturing People. Opening on 11 September 2021, the exhibition focuses on humanity and the everyday, with works by photographers including Dorothea Lange, Father Francis Browne and Inge Morath.  
With photography from the nineteenth century to the present day, Picturing People includes works that depict urban and rural life, as well as individuals from different communities, cultures and backgrounds. This collection of photographs by Irish and international artists includes work by German photographer Evelyn Hofer, Irish artist Eamonn Doyle, film maker and photographer Nevill Johnson, and English portrait photographer Jane Bown.
Spanning many generations of photographers, these works give an insight into the dynamic between the subject and the artist while conveying specific scenes and moments in time - be it a family trip, a hurling match or a horse market in the west of Ireland many years ago.
Exhibition curator Sarah McAuliffe commented: "As the Gallery's collection continues to expand, we're delighted to present over 70 artworks – many newly acquired – to the public in this exhibition. These works celebrate people in Ireland and abroad, from diverse backgrounds, communities and cultures, united by universal experiences. Picturing People offers something for everyone and my hope for those visiting the exhibition is that they will feel a sense of warmth and joy as they move through the exhibition space."
The exhibition closes on 5 December 2021. A fully illustrated companion book is available to purchase at the Gallery Shop and online. Entry to all exhibitions year-round is free for Friends of the National Gallery of Ireland. 
Media contact:
Ciara Mooney, Communications, National Gallery of Ireland, [email protected] 
Notes to Editor:
Images are available on request. 
Exhibition curator Sarah McAuliffe (Curatorial Fellow, National Gallery of Ireland) is available for interview.
Exhibition listing:
Picturing People 
Opens: 11 September 2021
Closes: 5 December 2021
Print Gallery, National Gallery of Ireland
Curator: Sarah McAuliffe 
Free admission. Book your free general admission ticket online in advance.
Gallery opening hours:
Mon: 11am – 5.30pm
Tues to Sat: 9.45am – 5.30pm
Sun: 11.30am – 5.30pm
About the National Gallery of Ireland:
The National Gallery of Ireland is one of the country's most popular visitor attractions housing the nation's collection of European and Irish art from about 1300 to the present day, and an extensive Library & Archive. Entry to the collection is free for all to enjoy, learn and be inspired.
National Gallery at Home:
For those who are unable to visit the National Gallery of Ireland at the moment, there are many ways to engage with the national collection online. 'National Gallery at Home' includes videos, Works of the Day, Mindfulness and Art, and at-home activities connected to the national collection. Virtual tours of iconic spaces such as the Shaw Room and the Grand Gallery, as well as online talks and podcasts can also be explored from home. Find out more at www.nationalgallery.ie